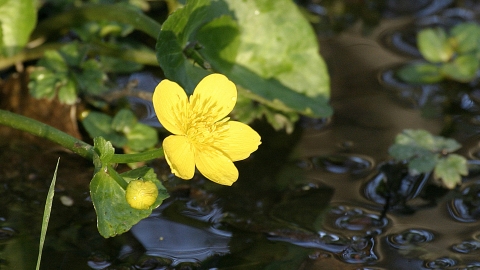 A small marsh alongside the River Leam with wetland wildlife
Location
Know before you go
Entry fee
Members only
Parking information
Park next to the Severn Trent pumping station
Grazing animals
No
Walking trails
Follow the circular path around the perimeter of the reserve 
Access
Flat, soft patches, floods in winter, stiles. 
When to visit
Opening times
Open to members only
Best time to visit
Spring and summer
About the reserve
The marsh within this reserve is filled with greater pond-sedge plus bulrush and common reed. Birds like sedge warbler and reed bunting visit this area. Reed, sweet-grass, wild angelica, bittersweet and marsh woundwort can also be found. 
Round one of the ponds you'll find the large golden flowers of marsh-marigold in spring time alongside water mint and bog stitchwort In the woodland next to the marsh willow and alder grow amongst oak, ash and elder. 
An impressive list of invertebrates have been recorded here ranging from bees and beetles to spiders and flies. This provides a great food source for birds and many spcies of birds have been spotted here. 
Let us know what you've seen on this reserve? Fill in our sightings form!
Seen an issue on this reserve? Please report it. 
Species