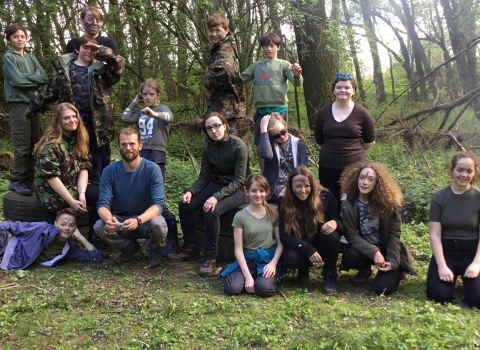 For Youth
Call of the Wild!
Our Call of the Wild programme provides unique opportunities for children and youth to take part in wilderness experiences at the trust's flagship Brandon Marsh Nature Reserve and at other locations such as Bubbenhall Wood. 
Swap screen time for survival skills! 

Warwickshire Wildlife Trust's ecological, education and survival experts help participants to develop the skills needed to be self-sufficient and comfortable in a wilderness environment and sessions can include:

building shelters
cooking on an open fire
learning to track animals
mastering the art of stealth
ecology and identifying useful species
teamwork games

Check out our film from Call of the Wild 2019 to see how this unique combination of bushcraft, ecology and life skills is inspiring the next generation of conservationists!
Duke of Edinburgh 
We are unfortunately unable to offer any volunteering opportunities for the Duke of Edinburgh Awards. Due to our recruitment and selection of volunteers within our volunteering policy.
Policy Statement: Young people below the age of 14 cannot be volunteers, as they are not directly covered by the Health & Safety at Work Act. Those under the age of 14 can, however, attend specifically designed educational or family events.
Warwickshire Wildlife Trust has an age requirement of 18 years and over for all volunteering opportunities. Volunteers aged 16 and 17 but under the age of 18 can volunteer but must be accompanied by a parent, guardian or responsible adult aged 25 years or over at all times whilst volunteering with the trust.
The Trust does not have the staffing capacity for offer a mentoring service/programme.