Make a yummy festive treat for garden birds this Christmas; they also make great outdoor decorations!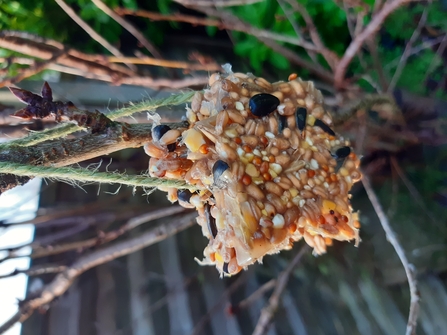 To make these festive treats for the visitors to your garden you will need:
1 cup of bird seed
1 standard sachet of gelatine
120ml of boiling water (or the amount stated in your gelatine instructions)
Measuring jug
Mixing bowl
Festive shaped cutters
Fat for greasing
Baking tray lined with greaseproof paper or eco alternative
Spoon
Fork
String cut into lengths long enough to make a loop for hanging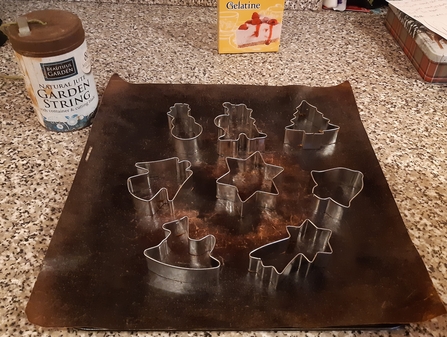 Method:       
Grease the cutters and place on the lined baking tray
Measure the bird seed into the mixing bowl
As soon as the kettle has boiled, measure out the correct amount of boiling water into a measuring jug
Dissolve the gelatine into the boiling water, whisking briskly with a fork
Pour the gelatine into the bird seed and mix well
Spoon the mixture into the cutters and press down until half full
Add string loops and then continue to add the mixture pressing down firmly until the cutter is full
Repeat until all cutters are filled
Leave to set in a cool place overnight
Remove bird cake from cutter and hang in your garden
Download the spotter sheet below and see if you can identify any visitors who come for a festive feast!
Garden Bird Spotter Sheet to download
Top tips:
Have more cutters than you think you will need prepared as the mixture starts to set relatively quickly and so it will become more difficult to work with
This amount made 4 shapes of medium sized cutters but it will depend on the size of your cutters
Grease the cutter thoroughly so that the bird cake slides out and keeps its festive shape
Sprinkle the gelatine onto just boiled water so that it fully dissolves
Any leftover mixture could be sprinkled on your lawn for birds to forage or on a bird table
Hang near to some shelter as many species are shy and so do not like to be in the open for long
If you don't have bird seed try: crushed up cereals, raisins, oats, chopped nuts, breadcrumbs or a mixture!