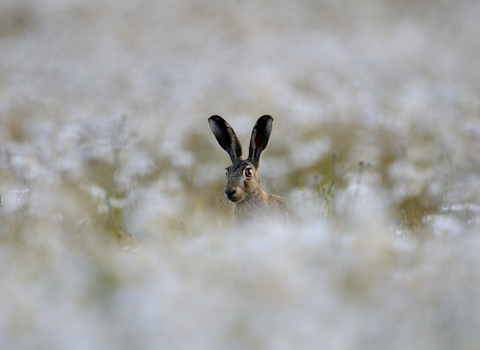 A Wilder Future: The Need for a Strong Environment Act
A Wilder Future: The Need for a Strong Environment Act
Thursday 9th May
Location: Oculus Building, Warwick University
Key speakers: Sir John Lawton and Baroness Parminter
Doors 18:00.  Event 18:45–21:00
Tickets available: 500
Price: Free
Come along to a Wilder Future evening, run in partnership with Warwick University, Coventry University and the NUS, and hear from leading conservationists and academics. At this Question Time style event we'll tell you how to let your local MPs know that more wildlife is better for us all, so that they support new laws – which are being debated right now – that will succeed in achieving nature's recovery.
Our natural world is in a critical condition. The laws and systems to keep it healthy are failing. More than 60% of plants and animals in the UK are now under threat. One in eight face extinction.
This is our problem too. Nature is vital for our physical and mental health, yet plastic litter, pesticides and dirty air are a fact of life. Our obesity problem is the worst in Europe. Floods are becoming more common and more destructive. Damage to farmland soils costs us around £1bn a year.
These issues show that our lifestyles overlook the value of natural systems – systems that underpin everything we do. We need healthy soil to grow food in, clean air to breathe, clean water to drink, and green space for exercise and relaxation. No one disputes this, yet our farming, planning and economic systems have often taken us in the opposite direction. Our wild places are becoming disconnected – and people disconnected from them too. Warwickshire Wildlife Trust wants a Wilder Future. A future where existing wildlife sites are better protected, and connected to more space for wildlife, and people too. A future where nature is in recovery. Do you share our vision? If so, we need your help.
The Government is currently shaping a new Environment Bill, the first in more than twenty years. It will set out a legal framework for the government's promise to leave the environment in a better state over the next 25 years. NUS are working with The Wildlife Trusts to ensure that students have their say in this once in a generation opportunity, to set us on a path to restoring nature and securing a just and sustainable future for all.
Come to our Wilder Future evening and have your say in nature's recovery.
Keynote Speakers
Sir John Lawton

Professor Sir John Lawton was Chairman of the Royal Commission on Environmental Pollution (2005-2011), Chief Executive of the Natural Environment Research Council (1999-2005), and Director of the Centre for Population Biology at Imperial College (1989-1999).

Trained as a zoologist at the University of Durham, he subsequently held posts at Oxford and York Universities. His scientific interests focus on the diversity of the living world and its conservation. John is a Past President of the British Ecological Society, a former Chairman and currently Vice-president of RSPB, and President of the Yorkshire Wildlife Trust.

His 2010 report to Defra (Making Space for Nature) has had a major influence on strategic approaches to nature conservation in the UK. He was elected FRS in 1989, awarded a CBE in 1997 and knighted in 2005 for his contributions to ecological science.

He is a Foreign Member of both the US National Academy of Sciences and the American Academy of Arts and Sciences.
Baroness Parminter

Baroness Kate Parminter headed the Public Affairs for the RSPCA, during which time she chaired the Campaign for the Protection of Hunted Animals which helped to ban hunting with dogs. In 1998 she became Chief Executive of CPRE, the Campaign to Protect Rural England, the leading conservation campaigning charity, which Kate led for nearly six years.

She was a Liberal Democrat Councillor on Horsham District Council in West Sussex for eight years (1987-1995), a member of the Liberal Democrats' South East Region Executive and was a member of the Liberal Democrats Federal Executive and the Federal Finance and Administration Committee.  She is now a trustee of the party.

Kate was created a life peer in July 2010 following the General Election which saw the Liberal Democrats form the Coalition Government. She was a Co-chair of Defra/DECC parliamentary party committee during this time. During her time in the Lords Kate has campaigned on a diverse range of issues including the environment, equality, animal welfare and education.

Kate successfully campaigned to introduce a 5p charge on plastic bag usage to reduce the over reliance on a product that is incredibly damaging to the environment (recent figures show that 8.3 billion plastic bags are used annually in the UK alone).

In 2015 she was appointed to the House of Lords Select Committee on National Policy for the Built Environment. Since 2015 she has been the Liberal Democrat Environment, Food and Rural Affairs Spokesperson in the team led by Tim Farron.
Panel members
Ed Green

Chief Executive - Warwickshire Wildlife Trust

Panel member
Jonathan Chilvers

Elected Councillor and Leader of the Green Group on Warwickshire County Council, Green Party deputy leader candidate, GE Candidate, Warwick & Leamington
Ben Newsham

Sabbatical Officer - Warwick

Facilitator/Introductions/Closing 
Aderonke Ajibade

Sabbatical Officer - Coventry

Facilitator/Introductions/Closing 
Ben Vivian

Course Director: MSc Sustainability and Environmental Management  - Coventry Uni

Academic and panel member
Rosemary Collier

Academic Lead for the Warwick Global Research Priority (GRP) on Food - Warwick Uni

Academic and panel member
Malcolm Horne

Head of Environment - Severn Trent

Panel member
Todd Olive

Warwick University Student and Editor In Chief of GLOBUS

Panel member