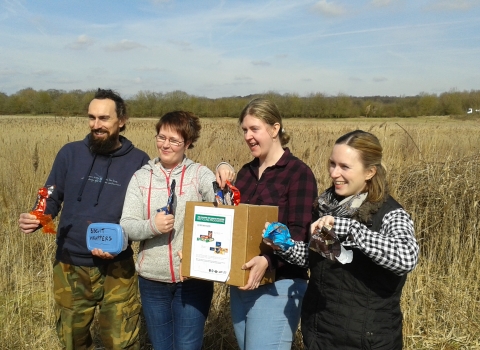 Raise funds by recycling!
Raise money by recycling everything from biscuit wrappers and stamps to cars.
Biscuit wrappers and much more!
Don't send your used biscuit wrappers (sweet and savoury) to landfill! Recycle them and raise funds for us, so get munching and collect the wrappers!
Simply register on the Terracycle website: www.terracycle.com/en-GB and choose which recycling schemes you would like to collect for. When you have the minimum pick up weight, print your free collection label and book your pick up via your Terracycle account. You will earn points on what you recycle and then you choose to turn your points into donations for Warwickshire Wildlife Trust by selecting us as your charity. 
Where do your used stamps go?
Did you know that they can be used to raise money for Warwickshire Wildlife Trust? Simply  post them directly to: Warwickshire Wildlife Trust,
PO Box 16992, Sutton Coldfield, B73 9YA (postage costs apply) or drop them into the purple box at the Brandon Marsh Visitor Centre.
They don't just take stamps they can also turn postcards, bank notes, medals, watches and jewellery into funds for us. These can be posted to: Freepost RSXA-GJBY-ARRZ, Warwickshire Wildlife Trust, Unit 14, Amber Business Village, Amber Close, Tamworth, B77 4RP. These items can also be put into the purple box at Brandon Marsh Visitor Centre along with old or foreign coins, mobile phones, video cameras, old film cameras, digital cameras, Sat Navs, game consoles, games & accessories, iPods, MP3 players, laptops and tablet computers.
You could take it a step further and have your own collection box at your workplace or with your community group.  Recycling for Good Causes arrange free (minimum 10kg) collections so all your need to do is fill the box and give them a call when it needs emptying! To get your box simply contact Recycling for Good Causes at info@recyclingforgoodcauses.org or call 0800 633 5323.   
Recycle Your Ink Cartridges
Did you know that you can help us raise funds simply by recycling your ink cartridges via our Recycle4Charity programme? For each inkjet cartridge recycled via the programme we will receive a £1 donation, meaning you can help the environment whilst raising money for us!
To start, all you need to do is go to the address shown below and sign up for your free account. Register now at – www.recycle4charity.co.uk/Register/C72239
Vehicles
Do you own a vehicle that you want to dispose of? Giveacar organises car donation for good causes in the UK, including Warwickshire Wildlife Trust.
They provide a free service throughout the UK. They can arrange the collection of the vehicle at no cost to you. Depending on its age and condition, they can either recycle it at a green facility, or send it to a salvage auction.
Scrap donations raise an average of £100 for the charity, with auction cars often raising much more. Since Giveacar was set up in 2010, the organisation has raised over £1,000,000 for over 1000 charities!
Arrange donation of a car to Warwickshire Wildlife Trust online or call 0207 736 4242, quoting Warwickshire Wildlife Trust as your chosen charity.