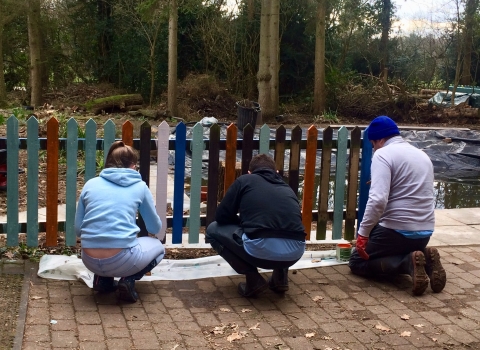 Why businesses support the charity
It was so nice to get out of the office and spend a sunny day improving the woodland in the fresh air. I would happily come and do this again, anytime. I even saw a shrew!
Why Book a Wild Work Day?
Case Study: Severn Trent Water (STW)
We delivered 30 Wild Work Days for Severn Trent Water employees in 2019 as part of their Community Champions programme.  On one of these days, a team from Severn Trent Water spent a sunny day helping to improve the River Blythe by removing non-native invasive species.  Himalayan balsam is a problematic invasive plant that grows along riverbanks and completely suppresses the growth of any native species.  The result is that there is a monoculture of Himalayan balsam, few other flowering plants and therefore a vast reduction in other species such as insect pollinators.  Following training from our experienced staff, the team broke into small groups and battled their way along the river banks, through a towering forest of balsam, leaving much clearer areas for native plants to grow through and flourish.  Despite it being a hard day of physical effort, the team thoroughly enjoyed the work, the opportunity to step away from the office and work together with colleagues. The day was summed up by this STW employee:
"Amazing to be out in the fresh air, with the team, whilst helping nature!"
Case Study: Jaguar Land Rover (JLR)
We delivered 5 Wild Work Days for Jaguar Land Rover staff as part of a long standing partnership in 2019.  Staff joined us at four different nature reserves over the summer to improve our important meadow sites.  Ragwort is an invasive species and can be harmful to livestock so it is kept under control on our meadow sites.  The group split into groups and pulled the plants by hand.  There was some friendly competition going on between groups and the groups opted for a short nature walk after lunch.  
"Enjoyable day in the countryside with added feel-good factor!"
Why Wild Membership?
Jonathan Stobart, Marketing Manager for Prime Acountants explains the appeal!
"Prime Accountants Group are delighted to join Warwickshire Wildlife Trust and support the work they do in the local area.
With our offices in Solihull and Coventry our employees and their families are well placed to take advantage of the various nature reserves the Trust looks after." 
Why Support a Wild Project?
Case Study: The Sensory Garden
The creation of the sensory garden at Brandon Marsh Nature Reserve shows how local businesses can come together with other companies, Warwickshire Wildlife Trust staff and volunteers to make a huge difference.
Steve Gough, CEO of Valpak tells us why they got involved: "Valpak are proud to sponsor the Warwickshire Wildlife Trust's Sensory Garden. We were looking to support a project that enabled us to help the local community through participation in practical action and that would bring staff together from a social perspective". 
Wild Workplaces
Andy Holding, Community Affairs Manager at Birmingham Airport explains how we support them in improving their land for local wildlife: "Birmingham Airport works to enhance local wildlife habitats, managing an area of 300 hectares, including a site of special scientific interest (SSSI), farmland, coppiced woodland and watercourses.
The project to extend Birmingham Airport's runway included creating new woodlands and hedgerows, improving and re-establishing features from areas involved in the development, and rerouting watercourses in ways that improve habitats available to local wildlife. Throughout, we had the invaluable support and advice of Warwickshire Wildlife Trust through a dedicated Steering Group that also includes local authority and Natural England representatives. Looking beyond their own site, Birmingham Airport staff also engage in conservation work by taking part in volunteer work in local parks and nature areas." 
Wild Sponsorship
Peter Gibson, Director at exmedia tells us why they support us: "I always used to see hedgehogs when I was a kid, but you don't see them often nowadays. That's why exmedia are supporting the Help for Hedgehogs campaign so children today will be able to help a species that we took for granted when I was small." 
"Listers Volkswagen Coventry are proud to support the work of the Warwickshire Wildlife Trust through provision of a Volkswagen car as well as donating £100 to the Trust for every new or used car sold to a Trust member", Glen Hook, Brand Manager at Listers Volkswagen Coventry.
To find out more, contact us on:
e: business@wkwt.org.uk
t: 024 7630 2912