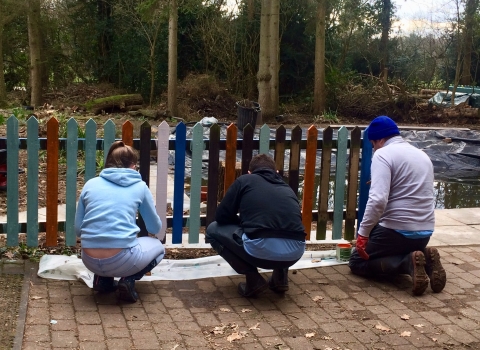 Hear why Businesses support Warwickshire Wildlife Trust!
It was so nice to get out of the office and spend a sunny day improving the woodland in the fresh air. I would happily come and do this again, anytime. I even saw a shrew!
Why Book a Wild Work Day?
Case Study: IBM Warwick
The team from IBM Warwick spent a day removing non-native trees from Trust reserve, Oakley Wood on behalf of their IBM on Demand community programme. 
Following training from our experienced staff, the team broke into small groups and practised the traditional art of coppicing - cutting down native trees to ground level to encourage regrowth, native regeneration and light. Others removed some non-native species which block light and reduce diversity.
Despite it being a hard day of physical effort, the team thoroughly enjoyed the work and within a few hours the amount of light cascading into the woodland was noted. 
The day summed up by Andrew Palin, IT Project Manager, IBM:
"It was superbly managed by Warwickshire Wildlife Trust and quite simply a very rewarding day."
Case Study: Keller
Brandon Marsh nature reserve is home to many rare and fragile species that rely on the rich wetland habitat. We've increased this habitat by extending the Newlands reedbed by five and a half football pitches!
A group from Keller purchased 2500 reedbed plants and came out to Brandon Marsh for a rewarding day assisting with the planting efforts.
Why Wild Membership?
Jonathan Stobart, Marketing Manager for Prime Acountants explains the appeal!
"Prime Accountants Group are delighted to join Warwickshire Wildlife Trust and support the work they do in the local area.
With our offices in Solihull and Coventry our employees and their families are well placed to take advantage of the various nature reserves the Trust looks after." 
Why Support a Wild Project?
Case Study: The Education Garden
The Education Garden at Brandon Marsh Nature Reserve was created to provide a place for children to learn through messy play. Children love crawling through the tunnels and playing in the mud kitchen. A number of local businesses, including Barclays, Jaguar Land Rover, Keller and Lucy Hartley Garden's came together to make our vision a reality.
Martin.J.Walsh, Senior Purchasing Manager at Jaguar Land Rover tells us more:
"Over many years, Jaguar Land Rover employees have always looked forward to participating in Community Projects, and this was no exception. Many of us have an interest in wildlife, so when the opportunity to work with Warwickshire Wildlife Trust came up we jumped at the chance. Helping create the new educational garden, maintenance in the orchards, and building hedgehog shelters gave us a real sense of pride.
"The staff led us superbly well and boosted our morale when they revealed we'd carried out more work than expected. This was an experience we would be happy to come back and do again," 
Case Study: The Sensory Garden
The creation of the sensory garden at Brandon Marsh Nature Reserve shows how local businesses can come together with other companies, Warwickshire Wildlife Trust staff and volunteers to make a huge difference.
Steve Gough, CEO of Valpak tells us why they got involved: "Valpak are proud to sponsor the Warwickshire Wildlife Trust's Sensory Garden. We were looking to support a project that enabled us to help the local community through participation in practical action and that would bring staff together from a social perspective". 
Wild Workplaces
Andy Holding, Community Affairs Manager at Birmingham Airport explains how we support them in improving their land for local wildlife: "Birmingham Airport works to enhance local wildlife habitats, managing an area of 300 hectares, including a site of special scientific interest (SSSI), farmland, coppiced woodland and watercourses.
The project to extend Birmingham Airport's runway included creating new woodlands and hedgerows, improving and re-establishing features from areas involved in the development, and rerouting watercourses in ways that improve habitats available to local wildlife. Throughout, we had the invaluable support and advice of Warwickshire Wildlife Trust through a dedicated Steering Group that also includes local authority and Natural England representatives. Looking beyond their own site, Birmingham Airport staff also engage in conservation work by taking part in volunteer work in local parks and nature areas." 
Wild Sponsorship
Peter Gibson, Director at exmedia tells us why they support us: "I always used to see hedgehogs when I was a kid, but you don't see them often nowadays. That's why exmedia are supporting the Help for Hedgehogs campaign so children today will be able to help a species that we took for granted when I was small." 
"Listers Volkswagen Coventry are proud to support the work of the Warwickshire Wildlife Trust through provision of a Volkswagen car as well as donating £100 to the Trust for every new or used car sold to a Trust member", Glen Hook, Brand Manager at Listers Volkswagen Coventry.
To find out more, contact us on:
e: business@wkwt.org.uk
t: 024 7630 2912