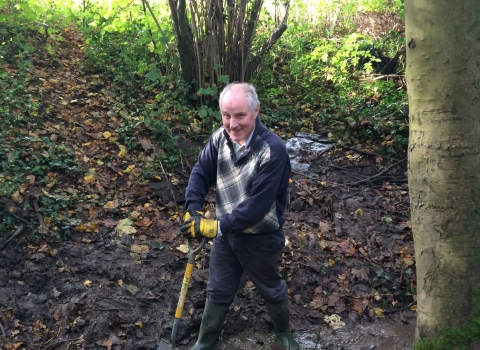 Volunteer
Volunteering Update
COVID-19 update as of 08.01.21
Update: 8th January 2021
Unfortunately we have decided to suspend most of our volunteering programme until further notice. For full details please see the below letter from Ed Green our CEO.
Unfortunately, we will not be taking on any new volunteers at the present time and will review our volunteering needs and requirements later in the year. 
We would like to take this opportunity to thank each and every one of our valued volunteers for their time, support and patience. Thank you for your cooperation and understanding, as we all take on board new guidance and adapt accordingly.
Please continue to use the nature reserves and green spaces on your doorsteps and keep in contact with us via our social media pages and newsletter, Nature News, which you can sign up to here on our homepage.
A letter from Ed Green, CEO regarding volunteering in lockdown 3
8th January 2021
Dear Volunteer
Unfortunately we have decided to suspend most of our volunteering programme until further notice.
Since the announcement on 4th January of the third national lockdown we have consulted our volunteers and examined the government guidance to the new regulations very carefully. While volunteering is a permitted activity, after detailed consideration we have concluded that we should not continue with most volunteering, and cease any activity which encourages volunteers to travel and gather together in groups. Even though we had established safe systems of working for volunteering so that groups could continue to operate during the second lockdown in November the new, more easily transmitted strain of Covid-19 which has emerged recently would have required changes so restrictive that groups could not operate effectively. We have come to this decision very reluctantly for volunteers' contribution to the maintenance of our sites for wildlife is essential, especially at this time of year, and we know how much people enjoy and benefit from coming together in nature to contribute towards the work of the Trust. However, for the time being, our immediate priorities must be the safety of our volunteers from Covid-19 and for the Trust to play its full part in society's response to the pandemic.
This suspension applies to all forms of outdoor practical and group volunteering, and activities usually based at our visitor centres or offices. Volunteers are still very welcome to help the Trust where this can be done alone or within permitted social bubbles, or from home. For example we would welcome people visiting their closest nature reserve and providing us with reports on its condition or wildlife seen there. We are also exploring whether we can provide some opportunities for volunteers with the relevant skills and experience to support us with our communications, marketing, administration, finance, fundraising or development planning work. If you feel you may be able to help us in this way, please contact the Trust. Please keep in touch anyway and we look forward to hearing from you: Wendy Knott is the Trust's Volunteer Coordinator on 07495 457145 and Wendy.Knott@wkwt.org.uk
We will review this position regularly and as winter passes and the vaccine rolls out we may be able to consider opening up volunteering. Rest assured we will do so just as soon as we consider it to be safe and worthwhile. In the meantime thank you very much for your help in the past – we look forward to the time when we can welcome you back and volunteering can once again take its place at the heart of what this Trust does, every day.
Hoping you all stay well,
Ed Green, CEO
_________________________________________________________________________
Volunteer with us - we need your help! You don't have to be an expert or have experience, you just need lots of enthusiasm.
With over 500 active volunteers, volunteering is a key part of everything we do here at Warwickshire Wildlife Trust. Each role contributes to protecting and enhancing wildlife, natural habitats and geology throughout Warwickshire, Coventry and Solihull. Volunteers work in many different roles, helping us to deliver a wide range of environmental services. We're looking for volunteers to support a number of our projects, so if you've got some time to give we'd love to hear from you!
Unfortunately most of our nature reserves and offices are not on public transport routes which means most volunteers do need their own transport. 
Keen to volunteer with us? Fill in this short form as your first step!
Or for an informal chat about any of our volunteering role you may be interested in contact us on volunteer@wkwt.org.uk / 024 7630 2912.  
Discover volunteering with us!
Watch our film to see more of the volunteering opportunities we offer. 
How volunteering changed my life... I was made to feel welcome from the beginning, the others volunteers were friendly and talkative. I remember that day that the thing which surprised me the most was the fact that only five minutes walk from the busy city centre was a haven for wildlife.