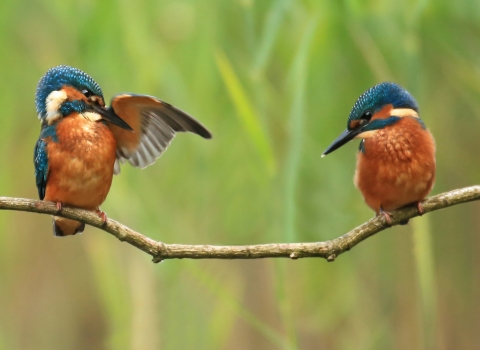 Talks
Please note in light of the Covid-19 outbreak and government advice we are not currently taking any bookings for talks. We will announce here and on our social media channels should there be any developments. Thank you for your support.
Would your group be interested in a talk from Warwickshire Wildlife Trust in? We ask for a donation of £90 for an hour's talk to cover our expenses and help to fund our work for wildlife and wild spaces across our region. The donation can be a cheque or cash payable at the event. 
| | |
| --- | --- |
| Title | Description |
| 50 Years of Warwickshire Wildlife Trust | Special 50th birthday talk celebrating Warwickshire Wildlife Trust's past, present and future. This illustrated talk digs into our photo archive and shares our work for wildlife and people. Originally only available in 2020 but due to demand the offer will continue into 2021. |
| Warwickshire Wildlife Trust | How the Wildlife Trusts started, who Warwickshire Wildlife Trust are and what we do.  Including a spotlight on some of our nature reserves; what can be found there and how they are managed. |
| Wildlife in your Garden | Find out how to manage your garden for the benefit of wildlife, how to attract certain species and who the common visitors tend to be. Available from January 2021 onwards. |
| Gardening for wildlife and your plate | Tips from a real case study to make your garden wildlife friendly alongside making sure your vegetable patch gives a good harvest. Only available on certain days/times. |
| Hedgehogs | Information about hedgehogs and what you can do to help hedgehogs. |
| Geology and Warwickshire Wildlife Trust | A brief introduction to geology, the geology of Warwickshire and how it influences Warwickshire Wildlife Trust Reserves. Must be an hour talk. Only available on certain days/times. |
If you have any further questions please contact enquiries@wkwt.org.uk or call 024 7630 2912.