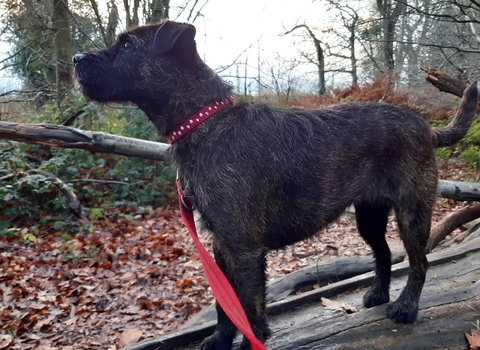 Exploring our reserves with a dog
Many of our reserves welcome dogs so that you can explore with your full family. Here you can find a full list and lots of useful information about how to balance having a good walkies and ensuring wildlife is protected.
We recognise a balance needs to be achieved between enjoyable dog walking and protecting wildlife.
This page will provide you with an understanding of our requirements for dogs visiting our nature reserves, the impacts they can have on nature, and as owners, how you can reduce these impacts whilst still enjoying the countryside with your family pet.
Dog Walkers Code of Conduct

Please make sure you are allowed to walk your dog at the nature reserve you are visiting.
Please keep your dog under close control at all times – never let them off the lead if livestock is in the area.
Pick up your dog's mess and dispose of it responsibly.
Respect other visitors.
Please respect signs and requests from the nature reserve team.
Stay dry. Please do not allow your dog to swim in open water or rivers on our reserves.
Go for a walk. Please do not encourage 'fetch' games using balls, sticks or frisbees!
Take fresh water with you for them to drink.
Keep your dog with you. Please do not leave your dog unattended or in your car at any time.
Reserves that welcome dogs under close control

Please keep your dog on a lead and under very close control during bird breeding season (March to August) and if there is livestock grazing. You are welcome to email or call us on 024 7630 2912 to find out if a site has grazing animals at the time so you can plan ahead.

Click on each reserve to find out more:
Reserves that welcome dogs on leads at all times

Please keep your dog on a lead and under very close control during bird breeding season (March to August) and if there is livestock grazing. You are welcome to email or call us on 024 7630 2912 to find out if a site has grazing animals at the time so you can plan ahead.

Brandon Marsh car park to allow access to Brandon Reach
Visitor Centres

Both Brandon Marsh and The Parkridge Centre fall into the  category of 'Dogs not permitted on the reserve'. From Brandon Marsh you can enjoy Brandon Reach with your dog, so dogs on leads are permitted in the car park at Brandon Marsh. Malvern and Brueton Parks in which The Parkridge Centre is situated, are very large parks which you can enjoy with your dog and The Parkridge Café allows dogs on leads inside and outside, so you can enjoy some much needed refreshments.
Why do I need to keep my dog close to me and under control?

This helps to minimise distress and disturbance caused to local wildlife. If your dog is off the lead and out of sight it may well be causing disturbance to wildlife, which can cause a reduction in breeding success and ultimately a decrease in population numbers. Dogs do not understand that their natural behaviour could impact other species so we need your support to ensure everyone can be happy.

We welcome a wide variety of visitors to our nature reserves, from wildlife enthusiasts to school groups. Please be aware that dogs can cause risk to other users, even unintentionally. Not everyone is fond of dogs and some people have severe phobias.

It is against the law to let a dog be dangerously out of control anywhere.

This includes;

in a public place
in a private place, e.g. a neighbour's house or garden
in the owner's home
Why do I need to keep my dog on a lead?

In some instances, dogs can be incredibly destructive to sensitive ground flora and during bird breeding season (March to August), particularly to ground nesting birds. We ask that you consider keeping your dog on a lead during this time on all our nature reserves, even if it is OK for your dog to usually be off the lead at these sites.

Many of our nature reserves are managed with the help of grazing animals at certain times of the year. Livestock worrying by dogs is on the increase and can lead to devastating consequences for livestock and dogs! Please keep your dog on a lead at all sites where animals are grazing and be vigilant - neighbouring land owners may also graze livestock. Please be aware that a farmer or landowner can legally kill any dog perceived to be worrying their livestock. Livestock are generally not on site all year round. The main grazing season starts at the end of August through to December. During this period, we put up additional signage to inform visitors.
Why can't my dog swim in the water?

Please do not encourage your dog to swim in ponds, rivers or other water bodies. Not only does this cause disturbance to wildlife in and around these areas but it also increases the risk of transferring invasive and harmful plants such as New Zealand pygmyweed or amphibian diseases from one body of water to another. Your dog may also become ill or injured swimming in ponds, rivers and streams.
Why do I need to pick up after my dog?

Dog mess is not only an unsightly health hazard for visitors, reserve staff, volunteers and grazing livestock, if left it can alter the pH of soils and can discourage the growth of sensitive and rare ground flora. It can spread disease and pathogens and can lead to serious illness or even blindness in humans and livestock. We need to safeguard our visitors, reserves staff and volunteers by ensuring they do not come into contact with dog mess.

We do not provide dog bins on our reserves so we ask that you take it home with you and dispose of it accordingly.
Why can't we play fetch?

Thrown objects will cause an impact on the ground and surrounding area which may not be immediately visible; this could also encourage a dog to go exploring away from the path and increase the risk of damage by trampling. Sticks are also dangerous toys for dogs due to their sharp, uneven and rough nature in a dog's mouth.
What about assistance dogs?

Some of our reserves do not permit dogs under restrictions from Natural England due to the extremely sensitive nature of the site or species present at the site, or land owner wishes. However working assistance dogs are permitted as these dogs are specially trained and are needed to enable access for the person they support.