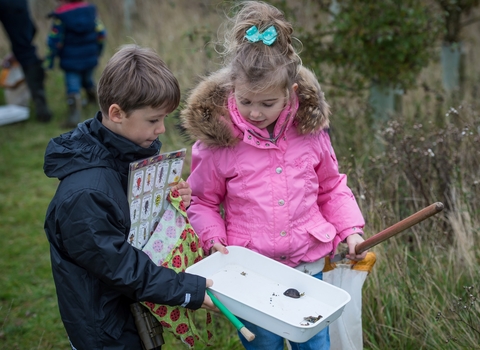 Welcome to Wild about Learning! 
A hub of educational resources for schools, youth groups and parents - for any child who wants to learn more about wildlife and connect with nature!
We believe children and young people of all ages should have an opportunity to explore the wonders of the natural world on their doorstep and in their daily lives.
Our education team aims to inspire the next generation of conservationists through outreach work with schools and community groups, alongside wildlife-themed activity sessions at our nature reserves across Coventry, Warwickshire and Solihull.
Thanks to support from players of People's Postcode Lottery, teachers and parents are now invited to tap into the team's resources via our Wild About Learning education hub, so they too can encourage outdoor learning at any time of the year, in any location, whether on the playground at school or in their garden at home!
Nature Tots: Ideal for pre-school children, each theme includes a short video and fun  activities. Younger siblings may be keen to join in too!
Nature Club: Sessions for primary school children with wildlife facts and games across topics ranging from Marvellous Minibeasts to Brilliant Birds.
Call of the Wild: For teenagers needing to swap screen time for real-life survival skills! Bush craft and ecology know-how for creative outdoor challenges.
We passionately believe that by ensuring young people of all ages and backgrounds have access to, and education in, the natural world, we can improve their mental and physical wellbeing, and safeguard our environment for the future.
Bookmark our education hub so you can revisit it whenever you are looking for ideas for outdoor learning! And look out for new sessions by following us on social media @WarwickshireWT on Facebook and Instagram and @WKWT on Twitter.

How it works
People's Postcode Lottery is regulated by the Gambling Commission. To find out more about how players of People's Postcode Lottery support The Wildlife Trusts, click here.
The Wildlife Trusts are fortunate to receive generous support from players of People's Postcode Lottery to help us connect people to nature through precious species, wild places and forest school learning. Find out more about our partnership here.  
For further information about our outdoor learning sessions supported by players of People's Postcode Lottery please contact Education Manager Vicky Dunne, Warwickshire Wildlife Trust, or call 024 7630 2912.