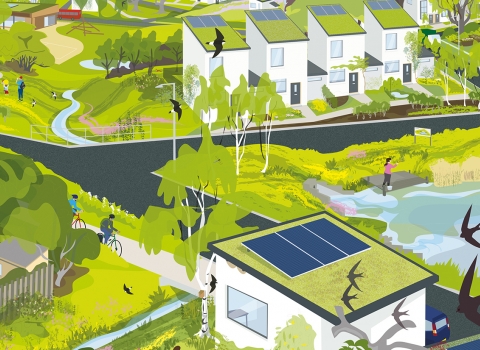 Planning
Warwickshire Wildlife Trust campaigns to secure positive outcomes for wildlife within the planning system. The Trust recognises that development proposals can have significant implications for wildlife. Poorly located or designed developments can often lead to adverse effects on our natural environment.
In particular the Trust seeks to protect:
Living Landscapes (habitat connectivity)
Local Wildlife Sites
Local Nature Reserves
Local Biodiversity Action Plan Habitats and Species
Ancient Woodland
Protected Species (e.g. bats, otter, reptiles, water vole and Great Crested Newts)
Some planning proposals offer excellent opportunities to benefit these features through habitat creation, enhancement or management. We work hard to influence planning decisions and the policies which guide them, to ensure that all planning proposals make a positive contribution towards the protection and enhancement of wildlife and biodiversity. We do this by:
Forward Planning
The Trust campaigns both nationally and locally to ensure that all relevant planning documents contain strong policies that promote wildlife protection and enhancement as a vital component of sustainable development. This predominantly involves responding to Local Development Plan consultations, strategies and guidance documents to ensure that all future development is located and designed in a way that is both sensitive and beneficial to wildlife.
Development Management
The Trust monitors and responds to planning applications throughout Warwickshire, Coventry and Solihull. We screen weekly planning lists using up-to-date habitat data for the county to identify priority planning applications that are likely to have the greatest impact on or opportunities for wildlife. Drawing on objective evidence and our knowledge of planning policy and wildlife legislation, we seek to ensure that developments avoid and mitigate adverse effects on important sites, habitats and species and incorporate features or beneficial management that secure long-term gains for wildlife.
Planning Advice
The Trust works closely with local authorities and other environmental organisations and agencies to provide advice to developers on a range of planning and wildlife matters. This enables us to identify any wildlife issues and opportunities at an early stage of the planning process so that solutions can be found and designed into the development proposals accordingly.
Housing Vision
The Wildlife Trusts' blueprint for new nature-friendly homes highlights the myriad of social, environmental and economic benefits of this approach:
Benefits for wildlife – better protection for wildlife sites, more space for wildlife, improved connectivity and buildings that are more wildlife-friendly
Benefits for residents – daily contact with nature, improved health, protection against climate extremes, safer transport routes, good sense of community
Benefits for the economy and wider society – cost-effective environmental protection, employment, space to grow local food, healthier and happier communities putting less pressure on health and social services
Benefits for developers – satisfied customers, market value, enhanced brand, improved recruitment, improved environmental ranking
Read The Wildlife Trust's "Homes for people and wildlife - how to build housing in a nature-friendly way"
Community Support
The Trust supports local campaign groups or individuals that wish to stand up for wildlife in their areas. We aim to empower local groups and individuals by providing the necessary tools and guidance to campaign effectively on planning and wildlife matters.
The Wildlife Assessment Check is a free online tool, designed to help householders and smaller developers who are making a planning application, a permitted development or works to a listed building. The tool allows applicants to check whether their proposed site and works are likely to require expert ecological advice before making a planning application. It aims to smooth out the planning application process for applicants by encouraging them to address potential ecological impacts early on, reducing unnecessary delays and costs. It also aims to support those local planning authorities who lack in-house ecological capacity, by encouraging applicants to take responsibility for ecological impact as a part of their application. Please feel free to share the links with your local networks. Click here to use the tool. 
The downloadable leaflets below provide further advice on wildlife and planning.
 
WILDLIFE AND THE LAW - Wildlife and Planning Guidance