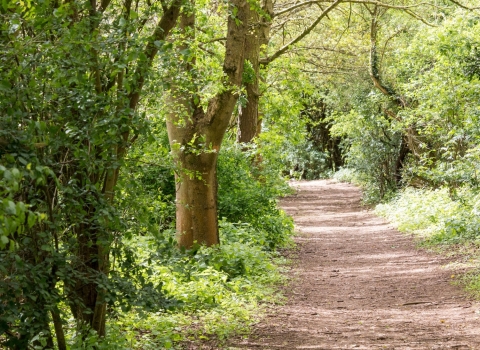 Leamington Green Connections
Summer / Autumn 2021 update: This project now covers three of our beautiful reserves local to Leamington - Leam Valley, Oakley Woods AND Whitnash Brook. Please do get in touch if you're local and would like to get involved or added to our weekly Friday e-newsletter for this project - email Kat.reay@wkwt.org.uk. 
Spending time outdoors makes us feel better!
Did you make the most of your hourly exercise over lockdown to be active in your local green spaces? Did it improve how you felt mentally and physically? Why not get involved in our Leamington Green Connections project which offers people the chance to feel better whilst benefitting their local nature reserves.  
How?
Being out in nature is great for your physical and mental Wellbeing. Getting time out in the wild to take notice and connect can bring mental balance whilst staying active and giving back through hands-on conservation tasks can be extremely rewarding. You might even learn something new!
Thanks to funding from the National Lottery Community fund, Warwickshire Wildlife Trust will be hosting a number of events over 2020 and 2021 to get people out and about in Leam Valley and Oakley Wood nature reserves.
Hands on conservation taster days
If you live locally and are keen to try something new, we would love to hear from you. Everyone is welcome, all tools and training is provided and you're welcome to come just once, once a month or every week there's no minimum commitment. All you'll need are some sturdy shoes, a good coat and a smile! 
Volunteering Sessions are on THURSDAY MORNINGS 10-1pm and there is space for new volunteers to have 'taster sessions' alongside our regular volunteers throughout the Autumn 2021. You can choose a date at any of the three reserves; both Leam Valley and Whitnash are easily accessible by public transport. Just contact Kat by email Kat.Reay@wkwt.org.uk or text/call on 07703192198. 
Wellbeing in the Woods: 5 Week Course
Join us to explore the '5 ways to Wellbeing'; Connect, Take Notice, Be Active, Learn Something New and Give Back. This is a gentle course and open to anyone over 18, but please note that unfortunately parts of the reserve are not accessible by wheelchairs.
All courses are FREE due to project funding and both autumn dates currently have space - 
Starting Mondays 10:30-12:30 from 13th September 2021 at Leam Valley.
Starting Tuesdays 12:30-2:30 from 2nd November  2021 at Oakley Wood.
We ask that if you sign up to a course you try and attend every week to get the full benefit of connecting with nature and the rest of the group but understand there are sometimes unavoidable circumstances which may mean you can't come. To sign up contact Kat by email Kat.Reay@wkwt.org.uk or text/call on 07703192198. 
Community Events
There will be a range of community events throughout the project including guided walks, family practical conservation sessions, bat evenings, and ID sessions. Keep an eye out on the Events section of the website and our social media pages for more details.