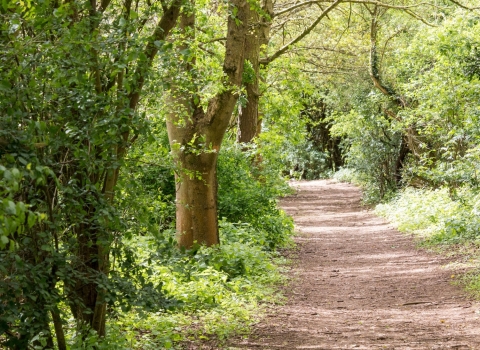 Leamington Green Connections
Spending time outdoors makes us feel better!
Our new Leamington Green Connections project offers local people the chance to do just that.  
How?
Being out in nature is great for your physical and mental wellbeing. Getting time out in the wild to Take Notice and Connect with your local Green spaces brings mental balance whilst helping with some hands-on conservation tasks can help us Stay Active and Give Back. Plus you might even Learn Something New!
Thanks to funding from the National Lottery Community fund, Warwickshire Wildlife Trust will be hosting a number of events over 2020 and 2021 to get people out and about in Leam Valley and Oakley Wood nature reserves.
Wellbeing in the Woods: 5 Week Course
Join us at Leam Valley Nature Reserve to explore the '5 ways to Wellbeing'; Connect, Take Notice, Be Active, Learn Something New and Give Back. This is a gentle course and open to everybody, but please note that unfortunately parts of the reserve are not accessible by wheelchairs.
The course will run weekly on a Friday morning 10:30-12:30 between 6th March and 3rd April.
You're very welcome to bring a packed lunch to sit and enjoy alongside the group afterwards or head off as soon as we're done.
We ask that you let us know in advance that you're coming so we can pack enough biscuits for teabreak!
Hands on conservation taster days
Practical conservation taster sessions will start in March 2020 and run fortnightly on Thursday mornings (10am - 1pm).  If you live locally and are keen to try something new, we would love to hear from you. Everyone is welcome, all tools and training is provided and you're welcome to come just once, once a month or every week there's no minimum commitment.
Your free taster sessions:
Leam Valley 12th & 26th March
Oakley Wood 19th March & 3rd April 
To find out more or to sign up to a taster session please contact Kat Reay, Leamington Green Connections Project Officer, kat.reay@wkwt.org.uk.
Alternatively, just drop in on the day! For Leam Valley we will meet in the car park next to the children's playground at 10am and for Oakley Wood we'll meet at 10am at the first little car park on the left as you turn into the Crematorium. 
Community Events
There will be a range of community events throughout the year including guided walks, family practical conservation sessions, bat evenings, and ID sessions. Keep an eye out on the Events section of the website and our social media pages for more details.