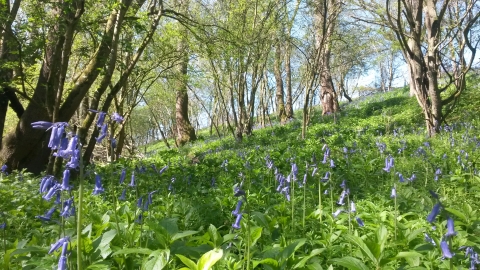 An ancient woodland and meadow with beautiful spring flowers
Location
Know before you go
Parking information
Car park at reserve entrance, please do not park on the road. Parking for Members only.
Grazing animals
No
Walking trails
Well defined informal paths, the flood meadow becomes wet during winter months and paths within the woodland become muddy
Access
There are well defined paths around this reserve but the area can become wet in poor conditions.
When to visit
Opening times
Open to Members only
Best time to visit
March to October
About the reserve
What's it like to visit?
Boasting a beautiful carpet of wild flowers in spring, this reserve is famed for its primroses, which mingle with bluebells, wood anemone and lesser celandine. Red campion and foxglove flower alongside ground-ivy and yellow archangel. 
What might you spot? 
Damp-loving ferns and liverworts appear along the stream's banks and rare lichens grow on some trees. Over 200 species of fungi emerge here, from morels to giant puffball and shaggy parasol. Twenty-eight butterfly species live in these woods including white-letter and purple hair streaks, white admiral and holly blue.
For those who love the little creatures, over 500 species of beetle have been discovered here and the woods are abundant with dragonflies and damselflies.
This is a great reserve to spot birds with woodcock over-wintering here and spring welcoming many warblers. Sparkling blue kingfishers are regularly seen as they dart into the River Avon for fish. The flood meadow has many wetland and marsh plants including hemlock, creeping buttercup and meadowsweet, and plays home to a colony of breeding toads. 
Species
Habitat