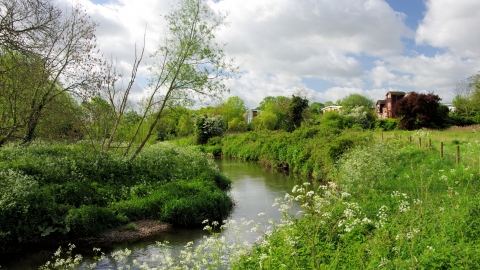 Beautiful stretches of river, meadows and woodland
Know before you go
Parking information
Parking on Ragley Mill Lane
Walking trails
A circular, way marked trail takes visitors around a one mile loop, taking up to 30 minutes.
Access
Contact the Trust for accessibility information.
When to visit
Opening times
Open at all times
Best time to visit
April to July
About the reserve
River Arrow reserve is a large area of grassland with a small area of woodland plus ponds and the river. Near to the centre of historic Alcester, it is valuable for locally rare small teasel and kingfishers.
What's it like to visit?
You may spot chub and pike in the river with its pebbly shores for hemlock, feeding grey wagtails and several regionally scarce beetles. 
The banks are edged with willows, alder, oak and hawthorn providing ideal perches for kingfishers. In summer purple-loosestrife, great willowherb and fool's water-cress line the pool where mallard and moorhen hatch their broods. Water boatmen and whirligig beetles swirl on the pool's surface, while dragonflies and damselflies dart busily by.
What is there to do?
Follow the circular marked trail which will guide you around all this reserve has to offer!
Environmental designation
Local Nature Reserve (LNR)