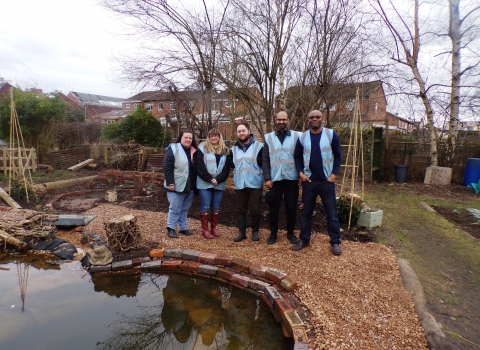 Support us a business
Make a difference to your local area
We need investors in local communities and wildlife - companies that care about the future of Warwickshire, Coventry and Solihull.
Take a look at our Business Supporters pack to discover how your business can get involved! 
We offer Wild Work Days with a difference for companies who want to get their staff active outdoors whilst making a positive and practical contribution to their local community.
Wild Sponsorship
Support through sponsorship is a great way to gain exposure and recognition
when your business is tight on staff time yet, make a huge difference to the people and communities we work with and the wildlife we protect.
Wild Fundraising
Encourage employee fundraising through a Workplace Challenge, adopt a species or recycle your old computers.
Wild Membership
Our business membership scheme is a great first step to a lasting relationship with the Wildlife Trust and it shows your staff, stakeholders and the public your commitment to local people and wildlife. You'll be in great company when you team up with us!
Find out about how local companies have been supporting our work.
Sign up to our free business e-newsletter to keep up to date with our business news and wild opportunities for your organisation
To see how we work with organisations in a way that is both mutually beneficial, and safeguards the reputation of Warwickshire Wildlife Trust please read our Ethical Framework. 
People and communities are at the very core of what we do, from connecting children with nature, to working with our 1000+ team of dedicated volunteers, to our vital partnerships with businesses and local organisations. Our commitment comes from a strong desire to secure support for a sustainable future for wildlife which has an immediate impact on the environment in which your employees live and work.

We have numerous opportunities for businesses to make a positive contribution and physical difference to their local community, whilst engaging staff and boosting team morale. Show your employees, customers and local community how much your business invests in the local environment and support us!