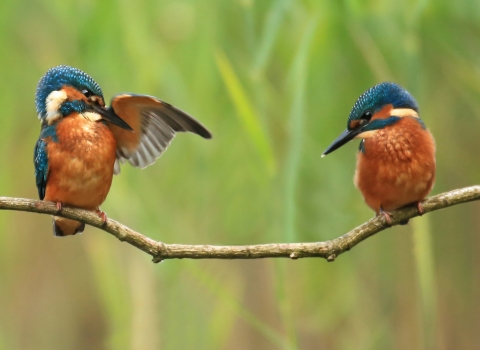 Talks
Would your group be interested in a talk from Warwickshire Wildlife Trust in 2020? A full list of talk topics is below. 2020 is a special year for us as we are celebrating our 50th birthday! We have a special talk to celebrate this and it would be fantastic if you could join in our celebrations.
We ask for a donation of £90 for an hour's talk to cover our expenses and help to fund our work for wildlife and wild spaces across our region. The donation can be a cheque or cash payable at the event. 
If you would like to book a talk please fill in your details using the form below. 
| | |
| --- | --- |
| Title | Description |
| 50 Years of Warwickshire Wildlife Trust | Special 50th birthday talk celebrating Warwickshire Wildlife Trust's past, present and future. Only available in 2020. |
| Warwickshire Wildlife Trust - History, reserves and Work | The history of The Wildlife Trusts and Warwickshire Wildlife Trust, who we are and what we do.  Information on some of our reserves; what can be found there and how it is managed.  Details on our campaigns. |
| Gardening for wildlife and your plate | Tips from a real case study to make your garden wildlife friendly alongside making sure your vegetable patch gives a good harvest. |
| Geology and Warwickshire Wildlife Trust | A brief introduction to geology, the geology of Warwickshire and how it influences Warwickshire Wildlife Trust Reserves. Must be an hour talk |
| Hedgehogs | Information about hedgehogs and what you can do to help hedgehogs |
A letter of confirmation will be sent once all details have been agreed. 
If you have any further questions please contact Jo Hands, Fundraising and Events officer jo.hands@wkwt.org.uk or call 024 7630 2912. 
Complete this booking form
These details are needed to keep in touch with you regarding your booking and not for marketing.
Read our full privacy policy. If you wish to be keep up to date with information about Warwickshire Wildlife Trust please use the tick boxes at the end of this form.