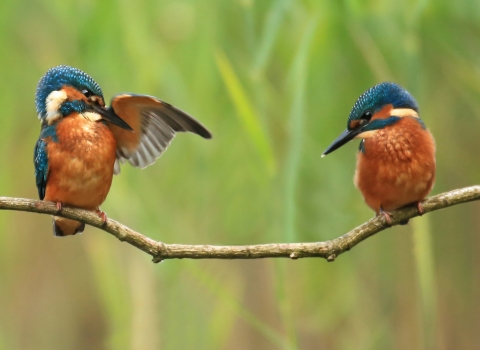 Talks
Would your group be interested in a talk from Warwickshire Wildlife Trust? 
From 2022 we are able to offer the following talks. If you are interested in one of these, please contact Philippa Arnold (Membership Engagement Officer) at philippa.arnold@wkwt.org.uk and we will send you a booking form.
| Title | Description |
| --- | --- |
| Overview of Warwickshire Wildlife Trust | The history of The Wildlife Trusts and Warwickshire Wildlife Trust, who we are and what we do. Information on some of our reserves; what can be found at them and how they are managed. Details on our current campaigns. |
| Gardening for wildlife and your plate | We can all help to encourage wildlife to flourish by making our gardens wildlife friendly. Find out practical hints and tips to 'go wild in your garden'. |
| Birds of Prey in the UK | Information about the different Birds of Prey that can be found in the UK and the best way of identifying them. |
| British Bats | Find out the difference between a Pipistrelle and a Daubenton's; and more about all 18 species of bat in the UK. |
| Hedgehogs | Information about hedgehogs and what you can do to help Britain's favourite mammal.  |
Want a talk on another subject? 
Please send us an email (philippa.arnold@wkwt.org.uk) and we will see what we can do for you.