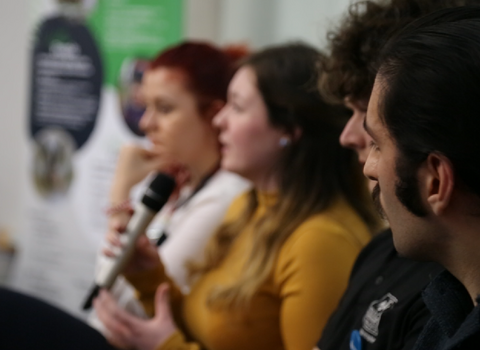 A Wilder Future for Warwickshire
I feel very passionate about the environment and it's degrading state or the loss of our natural environment. I feel passionate about spreading the message of protection for future generations.
We want to give young adults a voice to help us deliver a wilder future for our local environment. As part of our 50th year anniversary celebrations, we are recruiting for volunteer Young Adult Ambassadors, aged between 18 and 35, who are committed to bring about change to protect the natural world. Thanks to funding from the National Lottery Heritage Fund, our ambassadors will receive a range of training in grassroots conservation, as well as in campaigning, social media influencing and storytelling. With these newly developed skills, the ambassadors will be able to raise awareness about key conservation issues and motivate others to make a difference. We also want to give our ambassadors the chance to learn from the past to secure the future, by engaging with, and hearing stories from, long-standing members and volunteers.
Watch our short video to find out what you can expect from the Wilder Future for Warwickshire project.
Enquire about signing up to be a volunteer by filling out our quick contact form and share your Warwickshire Wildlife Trust stories by emailing our media team. 
Due to COVID-19, we are currently running the project digitally, with a series of interactive webinars and videos. A selection of the webinars will be posted here throughout the project. Please note that all views expressed by guest speakers are their own. Signed-up volunteers benefit from additional resources, exclusive events, discussion with guest speakers, tasks, and access to a project Google Group.
Former Hedgehog Officer, Dr Deborah Wright, discusses all things hedgehog and ways to help our prickly friends in this webinar. It features a video of nocturnal surveying for hedgehogs.
Dr Deborah Wright discusses all things bats in this webinar. It features a video on bat boxes at Snitterfield Bushes and provides an insight into the wonderful world of our misunderstood flying mammals.
Imogen Cavadino discusses all things slugs in this webinar.
Dr Deborah Wright discusses the wonderful world of small mammals found in Warwickshire in this webinar. It features a video of surveying for harvest mice.
Ed Drewitt discusses ways to see birds in the winter and ID features of common species found in Warwickshire in this webinar. It features a video of Ed surveying in woodland and wetland habitats.
Dr Kayleigh Fawcett-Williams discusses all things techno in this webinar.
Professional wildlife filmmaker and life-long naturalist, Simon Watts of WILD! Presentations, discusses the approach and mindset of capturing the natural world whether on film or photo. It features some of Simon's footage.
Dr Mark Spencer, forensic botanist, discusses the world of Forensic Ecology. It features some potentially graphic information.