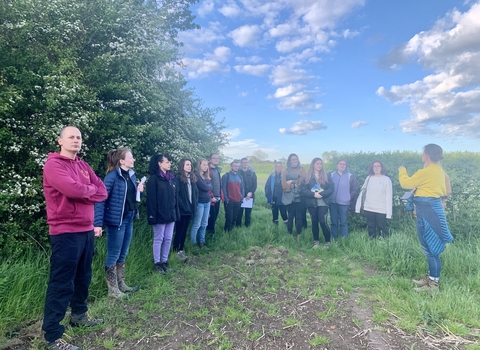 A Wilder Future for Warwickshire
I feel very passionate about the environment and it's degrading state or the loss of our natural environment. I feel passionate about spreading the message of protection for future generations.
Watch our short video to find out what you can expect from the Wilder Future for Warwickshire project.
The Wilder Future for Warwickshire Project is running from January 2020 to May 2022, the project seeks to empower young adults to help us deliver a wilder future for our local environment. So far we have recruited 40 Young Adult Ambassadors volunteers, aged 18-35, all of whom have a vested interested in nature, environmentalism and conservation. Thanks to funding from the National Lottery Heritage Fund our volunteers are receiving training in ecology, practical conservation, environmental campaigning, social media influencing and political lobbying. These training sessions have been delivered by a number of experts from Friends of the Earth, The Mammal Society, Media Trust and Directory of Social Change - just to name a few! With these newly acquired skills the Young Adult Ambassadors will be able to help Warwickshire Wildlife Trust raise awareness about key conservation issues and campaigns and ultimately inspire and motivate their peers to also become champions of the environment. The final aim of the project is to establish a Youth Council within Warwickshire Wildlife Trust to ensure that young adults views, opinions and skills are continually being developed and recognised by the Trust and that engagement with future generations remains a key component of the Trust's future.    
Enquire about signing up to be a volunteer by filling out our quick contact form and share your Warwickshire Wildlife Trust stories by emailing our media team. 
The COVID-19 pandemic has certainly had an effect on the organisation of this project, but throughout the last 18 months we have continued to adapt to the challenges. For the last 9 months the project has been run digitally, through a series of interactive webinars and discussions with weekly guest speakers providing training in their area of expertise. As restrictions begin to ease we have also resumed in-person events, meeting in socially distanced groups to tackle some practical conservation techniques. Signed up volunteers benefit from additional resources, exclusive events, discussions with gues speakers and access to social media assets. 
Former Hedgehog Officer, Dr Deborah Wright, discusses all things hedgehog and ways to help our prickly friends in this webinar. It features a video of nocturnal surveying for hedgehogs.
Dr Deborah Wright discusses all things bats in this webinar. It features a video on bat boxes at Snitterfield Bushes and provides an insight into the wonderful world of our misunderstood flying mammals.
Imogen Cavadino discusses all things slugs in this webinar.
Dr Deborah Wright discusses the wonderful world of small mammals found in Warwickshire in this webinar. It features a video of surveying for harvest mice.
Ed Drewitt discusses ways to see birds in the winter and ID features of common species found in Warwickshire in this webinar. It features a video of Ed surveying in woodland and wetland habitats.
Dr Kayleigh Fawcett Williams discusses all things techno in this webinar.
Professional wildlife filmmaker and life-long naturalist, Simon Watts of WILD! Presentations, discusses the approach and mindset of capturing the natural world whether on film or photo. It features some of Simon's footage.
Dr Kayleigh Fawcett Williams from #Wildlifetek, discusses ways in which we can use thermal imaging technology in conservation.
Emily Millhouse from #Froglife looks at identifying our different UK amphibian species, and ways we might be able to help them.
Professor Kevin Moffat looks at the fascinating world of microorganisms such as tardigrades, or "water bears". It features a "live" microscopy session.
Ben Harris from Froglife discusses reptiles in the UK, touching on species identification, survey techniques and conservation challenges.