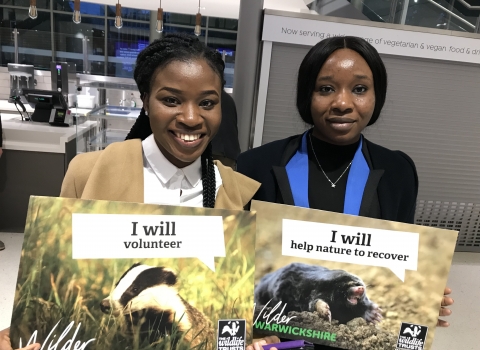 Wilder Future for Warwickshire
I feel very passionate about the environment and it's degrading state or the loss of our natural environment. I feel passionate about spreading the message of protection for future generations.
Want to make a difference but feel like your voice is not being heard? We want to give young adults a voice to help us deliver a wilder future for our local environment. We are recruiting for volunteer Young Adult Ambassadors, aged between 18 and 35, who are committed to bring about change to protect the natural world. Our ambassadors will receive a range of training in grassroots conservation, as well as in campaigning, social media influencing and storytelling. With these newly developed skills, the ambassadors will be able to raise awareness about key conservation issues and motivate others to make a difference.
We also want to give our ambassadors the chance to learn from the past to secure the future. We are seeking stories, photographs and memories about Warwickshire Wildlife Trust from long-standing members and volunteers to share with our ambassadors, so that they can build on the successes of the past to make lasting changes in the future.
This is the focus of our new Wilder Future for Warwickshire project, made possible with funding from the National Lottery Heritage Fund, and part of our 50th year anniversary celebrations.
This project has now restarted following postponement due to the COVID-19 outbreak and we are recruiting for Young Adult Ambassadors! We are currently exploring ways to run the project whilst socially distancing, with the project due to run digitally initially. Please feel free to enquire about signing up to be a volunteer by filling out our quick contact form and share your Warwickshire Wildlife Trust stories by emailing our media team.