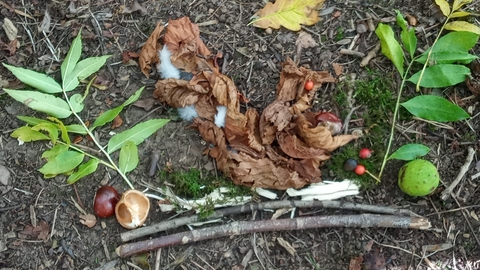 FREE Wellbeing in the Woods course - 5 weeks
Location:
Immediately to the east of Leamington Spa. One entrance is at the junction of Willes Road and Newbold Terrace East - this is where the measured mile trail starts. Or enter beside Newbold Community Leisure Centre. ,
Leamington Spa,
Warwickshire,
CV32 4EW
A five FREE course exploring how nature can help you feel better.
About the event
Our 'Wellbeing in the Woods' course explores how nature can help make you feel better. Each week focuses on one of the nationally recognised 'Five Ways to Wellbeing'; connecting, taking notice, getting active, learning something new and giving back. This is a gentle course but nonetheless powerful. There is no pressure to be involved in the weekly activities - sometimes being outside and with the group is enough.
Week 1: We connect with each other as a group and with nature through some 'wild art'
Week 2: We take notice of the wildlife around us through macro photography and identification
Week 3: We explore the extent of the reserve by getting active with a long walk, spotting wildlife as we go
Week 4: We learn something new about what nature can provide us with - using tools to create woodland crafts to take home.
Week 5: All participants are invited to join our regular volunteers for a conservation taster morning to 'give back' to wildlife on the local reserve.
Booking
Additional booking information
Email Kat.Reay@wkwt.org.uk to book a space
Know before you go
What to bring
Each week you'll need sturdy shoes, a drink and a coat.