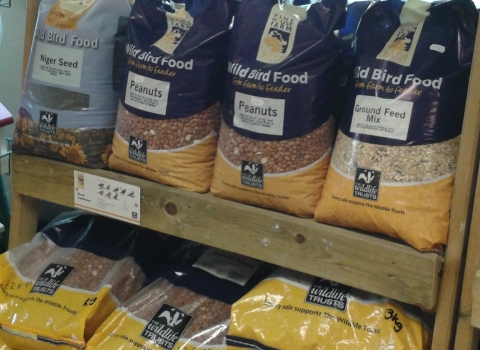 Your online shopping
Online fundraising is an easy way for you, your family and friends to raise money for us. When browsing or shopping you can raise money for us with the click of a mouse. 
Vine House Farm:
Order bird food and accessories from Vine House Farm who donate 5% of every sale to Wildlife Trusts.
Bird seed is grown at the farm and is delivered directly to your door.
Shopping online?
Did you know that whenever you buy anything online you could be raising a free donation for Warwickshire Wildlife Trust? 
There are nearly 3,00 retailers on board ready to make a donation, including Amazon, John Lewis, Aviva, thetrainline, and Sainsbury's - it doesn't cost you a penny extra!
It's really simple, all you have to do is:
1. Join.
Head to www.easyfundraising.org.uk/causes/wkwt and sign up for free.
2. Shop.
Every time you shop online, go to easyfundraising first, pick the retailer you want and start shopping.
3. Raise.
After you've checked out, that retailer will make a donation to your good cause for no extra cost whatsoever! 
There are no catches or hidden charges and Warwickshire Wildlife Trust will be really grateful for your donations.
 
Simply searching
Simply use Easysearch to raise money every time you search online. 
Just ten searches a day using Easysearch will raise £20 a year to support vital habitat work carried out by Warwickshire Wildlife Trust. 
Why not set it as your home page as every search counts. 
Having a clear out? 
Use eBay for Charity and donate a percentage or all money raised from a sale to Warwickshire Wildlife Trust. eBay collects the money, claims gift aid if eligible, deducts costs then forwards the money to us.
Follow eBay's simple instructions when listing your item. Your listing will display eBay for Charity's blue and yellow ribbon; our logo and mission statement will also appear raising our profile amongst thousands of eBay buyers and sellers. Start selling today. 
Amazon wish list 
Take a look at our Amazon wish list!
While you're shopping please add an item to help us carry out our work, from tools for our conservation work on reserves to arts and crafts materials for educational activities to engage children with nature.