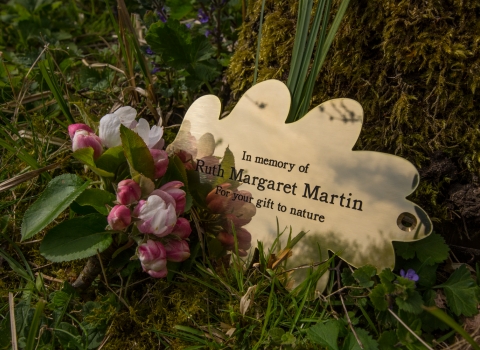 Memory leaves
Celebrate the life of a loved one, or mark a special occasion, with an beautiful oak leaf made from brass and engraved with a personal message.
You can choose to have your leaf plaque added to the Memorial Tree at Brandon Marsh, or alternatively we can send your plaque to you in the post, for you to display in your own special place of memory. 
Plaques are approximately 14.5cm long by 10cm wide and engraved to order with the wording of your choice (up to 60 characters). They are available at a minimum cost of £250, though you can donate more if you wish. By purchasing a memory leaf you will be helping us to raise the money we need to manage our reserves for nature, and to protect our precious wildlife. 
Plaques will be displayed at Brandon Marsh for a minimum of ten years for you, and your family and friends, to visit and spend time in nature whilst celebrating the life of a loved one.
How to order
By post: Please download our printable order form and return it to us, along with your payment by cheque or CAF. 
By telephone: 024 6730 8972
An online order form will be available soon. 
Print off and complete this form