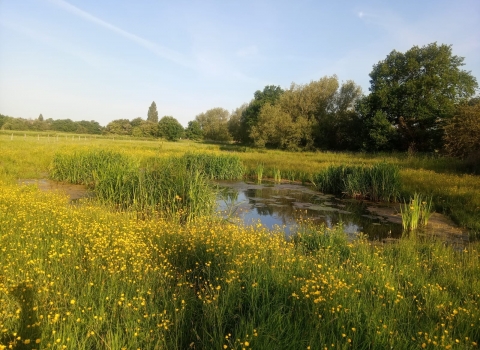 Enhancing Lakeview Park
Warwickshire Wildlife Trust has delivered a wide range of habitat enhancement works along the River Sherbourne at Lake View Park enabled by funding from Biffa Award. Lakeview Park is a vital 'green space' connecting Coventry City Centre to the rural outskirts of Coundon Wedge. 30 hectares of predominantly amenity grassland ,with some smaller areas of fen, scrub and woodland, the park presented an opportunity to create much larger and valuable habitat that would form a haven for mammals, birds and insects, but also encourage more community engagement with wildlife and green spaces.
In partnership with Coventry City Council, large swathes of lowland meadow have been created, new ponds of varied sizes sculpted and river engineering works undertaken to encourage a more natural flow along the historically straightened and dredged River Sherbourne. It is now 1 year after the works were completed and the park now provides an opportunity to see a diversity and abundance of wildlife due to the mosaic of wildlife habitats that we have established.  
Special thanks go to all the volunteers that helped to sow and plant the meadows by hand over several sessions in blistering hot sun and pouring rain, to Middlemarch Environmental for feasibility design work, and Steve at Classic Alarms for providing owl and kestrel boxes. 

Thanks to Biffa Award for their funding 
Water Sparkles Anew at Lakeview Park
Watch our film of the project