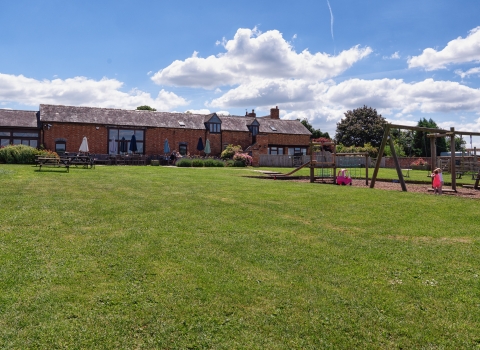 Hilltop Farm three villages walk
Hilltop Farm lies at the southern edge of the Dunsmore Living Landscape, a precious slice of countryside rich in wildlife and accessible to all. From the outskirts of Coventry and Leamington over to the ancient Fosse Way, discover a wooded heartland bursting with life, linked by a network of hedgerows and meadows. 
Get up close to nature, immerse yourself in the past and find your own connection to the landscape. For more information about the Dunsmore Living Landscape scheme, please visit exploredunsmore.org
There are two trails starting from Hilltop Farm, Hilltop to Hunningham, a 4km circular walk, and the Three Villages trail which is an 8km circular walk. Remember, rural footpaths can be muddy or slippery under foot so do wear suitable footwear. Also, please keep dogs on leads when going through farmyards and fields with livestock in.
For the 4km walk follow the blue dots on this map and use the red dot trail for the 8km walk.
Find the farm:
Hilltop Farm is on the Fosse Way. The address is: 
Fosse Way
Leamington Spa
Warwickshire
CV33 9EL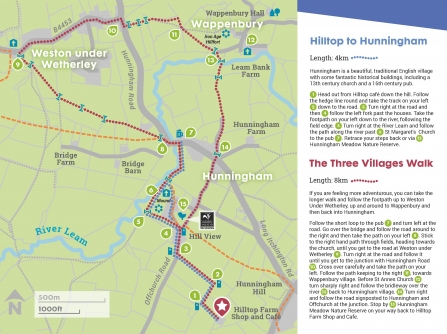 Download a copy of the leaflet for your walk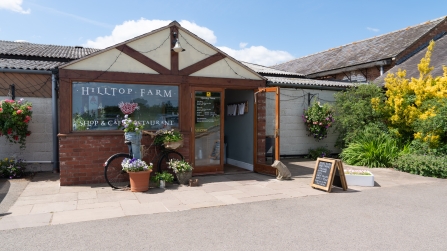 Hilltop Farm is a 300-acre working family farm. The Ellis family have farmed the land there for four generations, producing arable crops like oilseed rape, wheat, oats and barley as well as outdoor-bred and pasture-fed beef and lamb.  The farmland stretches down from Hunningham Hill to the River Leam that flows through the meadows in Hunningham village.  
The farm shop and café opened in 2003 to meet the growing demand for top quality local produce bought straight from the farmer. Hilltop has continued to grow ever since, with its café providing the perfect spot to enjoy fine local food with a spectacular view.  
See www.hilltopfarmshop.com for more information.