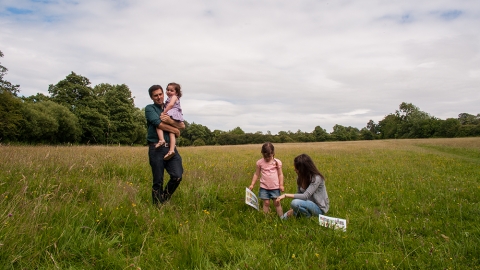 Picturesque traditional hay meadows.
Location
Know before you go
Parking information
Small area of parking in front of the gate at the reserve entrance
Grazing animals
Cattle Aug - Dec
Walking trails
Please keep to the reserve boundaries and stay on the footpaths to avoid trampling the rare flowers.
Access
There are no defined paths around the reserve. Access to the northern meadow is restricted to organised events only
When to visit
Opening times
Open at all times
Best time to visit
March to November
About the reserve
These picturesque traditional hay meadows are a great example of remaining unimproved grassland found in Warwickshire today.  There are hints of the meadow's ancient origins as you can spot the ridge and furrow markings. They are managed traditionally as hay meadows, cut in late July and then grazed by cattle in the autumn. 
What's it like to visit?
Enjoy waves of buttercup, cowslip, meadow vetchling and yellow rattle. Twenty species of grass are interspersed with bursts of colourful flower spikes.  The southern meadow contains a wide range of plants including the inconspicuous adder's tongue fern.   
What might you spot?
Both meadows are renowned for spectacular displays of green-winged orchid, indicating the undisturbed antiquity of the site. Even rare moonwort is recorded in this meadow, its only known location in Warwickshire.   Butterflies are abundant, with small copper and common blue dancing across the meadows and along the hedgerows. In autumn fungi forays will reward you with an amazing list of fungi, with an impressive dozen species of waxcap alone. Other distinctive fungi include white and smokey spindles and meadow coral.   
The stream is fed by spring-water helping brooklime, lesser water-parsnip and meadowsweet thrive on its margins. The hedgerows contain English elm, blackthorn and wild privet mingled with ivy and dog-rose. Occasional specimens of oak, ash and wild cherry add further diversity.   A good range of birds nest and roost in the trees and hedgerow, including nuthatch, great spotted and green woodpeckers. Redwing and fieldfare relish the reserve in winter months.
Dunchurch Meadow
Draycote Meadow is also linked to Dunchurch Meadow, a site of just under 3ha. In summer 2014 enhancement work began with green hay spreading. The hay was harvested from the donor Draycote Meadow and was strewn on a hot summer's day by hand by a team of Warwickshire Wildlife Trust volunteers and staff.  Then over 2000 plug plants were planted in 2015.   
Environmental designation
Site of Special Scientific Interest (SSSI)