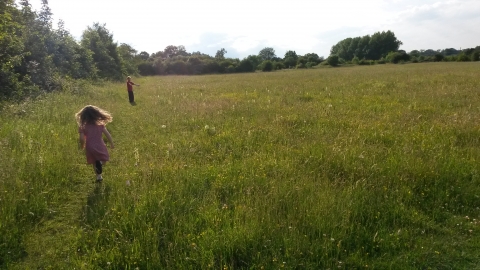 Stockton Cutting & Tasker's Meadow
6 nationally rare farmland butterflies
97 % of the UK's meadows lost over 75 years
A peaceful spot to enjoy a meadow of wildflowers and old railway cutting
Know before you go
Parking information
There is some parking off Calias Lane off the A426, on the opposite side of the road to the main gate.
Grazing animals
Grazing animals at certain times of the year.
Walking trails
Generally flat but with some steep, sloped areas with steps, muddy in winter. Stile at entrance
Access
The reserve is generally flat and accessible for most. Some areas become steep and in poor conditions can be difficult to walk. Contact the Trust for more information.
When to visit
Opening times
Open at all times
Best time to visit
April to August
About the reserve
History of the nature reserve
This is a rare habitat here in Warwickshire and home to lots of orchids, butterflies, birds and fungi. Sites like this can easily be lost to development, fertiliser or reseeding – and we look after more than 50% of the surviving examples in our area. We were able to able to save it thanks to legacies kindly left to us. We named it in honour of Dr Andy Tasker, our former Chief Executive who died in 2012 - in recognition of the contribution he made to nature conservation during his 30 years dedicated to Warwickshire's wildlife. 
What's it like to visit?
This nature reserve is made up of Tasker's Meadow and a steep-sided disused railway cutting through limestone, called Stockton Cutting.  Grass snakes, rabbit and muntjac are all visitors to the reserve, with occasional signs of the elusive badger. The meadow is a valuable grassland rich with different species. Look out for less common plants like hairy violet, false oxlip, dwarf thistle, autumn gentian, wild thyme and the scarce blue fleabane. 
What might you spot?
Six species of orchid can be found here including the largest population of greater butterfly orchid in Warwickshire. Other species include bee orchid, common spotted orchid, pyramidal orchid and green winged orchid (first seen on the site in 2013).    Come to spot the many butterflies here from Spring to mid-Summer. Six nationally rare farmland butterflies have been recorded including the grizzled skipper, dingy skipper and white-letter hairstreak.  
Environmental designation
Site of Special Scientific Interest (SSSI)