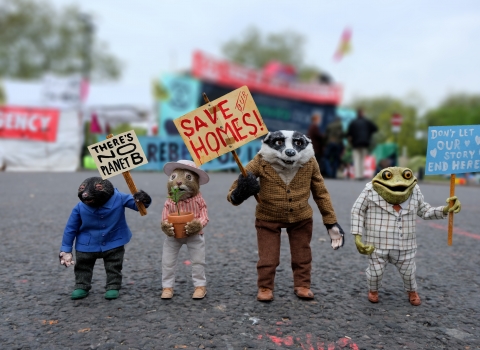 #TheTimeIsNow Mass Lobby
Join us in London on Wednesday 26th June 2019!
Join thousands of people in Westminster to tell MPs the time is now for action and call on them to set the foundations for a brighter, greener and safer world.
The Lobby
The Wildlife Trusts and other environmental organisations are partnering with The Climate Coalition for a mass lobby for climate, nature and people and we need your help. 
Our natural world is in a critical condition. The laws and systems to keep it healthy are failing. More than 60% of plants and animals in the UK are now under threat. One in eight face extinction.
This is our problem too. Nature is vital for our physical and mental health, yet plastic litter, pesticides and dirty air are a fact of life. Our obesity problem is the worst in Europe. Floods are becoming more common and more destructive. Damage to farmland soils costs us around £1bn a year.
These issues show that our lifestyles overlook the value of natural systems – systems that underpin everything we do. We need healthy soil to grow food in, clean air to breathe, clean water to drink, and green space for exercise and relaxation. No one disputes this, yet our farming, planning and economic systems have often taken us in the opposite direction. Our wild places are becoming disconnected – and people disconnected from them too.
The Government is currently shaping a new Environment Bill, the first in more than twenty years. It will set out a legal framework for the government's promise to leave the environment in a better state over the next 25 years. We need to join together to give nature a voice by speaking to our MPs and making Parliament sit up and listen. We need to make sure that we are on a path to restoring nature and securing a just and sustainable future for all.
Do you share our vision? If so, the time is now to act. Thousands will join an organised lobby line queuing around Westminster, separated by constituency and full of people keen to talk to their MPs about the environment - join us!
What does the day look like?
1pm: The lobby begins. It may take a while to find your constituency's area, so please allow plenty of time and ensure you're in the lobby line by 1pm. There will be signposts for regions and constituencies — see the guide for more details.
2pm: Alarm clock moment! Whilst gathering in the lobby line, we're going to set off as many alarm clocks as possible. By doing so, we will send a message to Westminster that they need to wake up and respond to the challenges our beautiful world is facing. Bring a portable alarm clock from home or use your phone!
1- 4pm: Meet your MPs around parliament. 10,000 of us will meet with our MPs in the streets around Parliament, all at the same time!
The Time Is Now Guide
Find out all about the event, and where to find your MP by downloading the event guide here.
Transport - Travel with Warwickshire Wildlife Trust
Warwickshire Wildlife Trust are organising a free coach for our staff and supporters to attend the lobby. Seats are allocated on a first come, first served basis, and full information will be sent out to you about the itinerary upon booking. 
Book your seat on the coach here
There will be Warwickshire Wildlife Trust staff on the coach and in our constituency areas at the lobby, so please do chat to us. We'll be wearing branded clothing so we're easy to spot. 
Alternative Transport Arrangements
If our coach is full and you would like to attend the lobby under your own steam, please visit The Wildlife Trust's page for more information. We advise everyone travelling independently to use public transport or arrange car sharing where possible. For those attending the lobby, the discount code CCL2019 will get you 25% off National Express coaches to Victoria Coach Station on the day. There is more detailed information in The Time is Now event guide.
Sign Up
Sign up on The Wildlife Trust's website and show your support by telling others. You can also find out more information about how to spread the word and encourage more people to join.