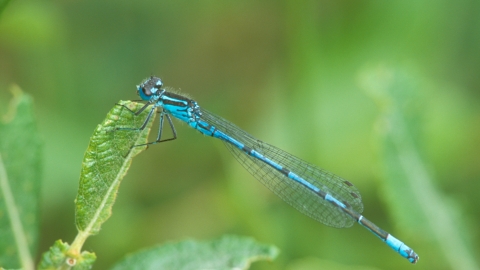 A wildlife gem in a 2km corridor of grasslands, pools and hedgerows
Know before you go
Parking information
Parking available in Otters Rest, off Chesterton Drive, CV31 1AD
Grazing animals
No
Walking trails
Kissing gate at Otters Rest, stone covered path, good all year round
Access
Paths around these reserve are accessible to all and are relatively good in all weather conditions. 
When to visit
Opening times
Open at all times
Best time to visit
April to August
About the reserve
This reserve is a 2km wildlife corridor with pond, marshy grassland and woodland. The reserve is noted for its invertebrates found in decaying wood within the brook.   This valuable wildlife corridor was once dominated by rough, species-poor grassland and scrub until recent enhancement through the creation of a number of pools. These already support a significant variety of wetland plants such as brooklime and lesser water-parsnip, and provide an excellent place to watch dragonflies in the summer.    The shaded stream supports mature alder and willow, some of which have been pollarded. Fallen trees provide a wealth of niches for small mammals and invertebrates.
Can you help look after this beautiful nature reserve?
Once our volunteering activities restart we will be hosting volunteer taster mornings on fortnightly Wednesdays throughout the summer.
Stay active
Meet new people
Improve your local nature reserve for visitors 
Protect wildlife
Do your bit for your local community  
Want to find out more?
Go to: https://www.warwickshirewildlifetrust.org.uk/WilderWhitnash
Environmental designation
Local Nature Reserve (LNR)