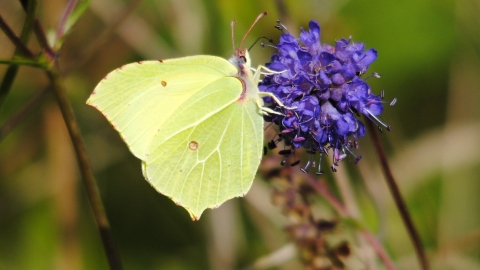 A fantastic nature reserve on the edge of Leamington Spa
Location
Know before you go
Parking information
Park in the car park past Newbold Community Leisure Centre or car park off Radford Road
Grazing animals
No
Walking trails
Flat and steep sections, muddy in winter, kissing gates, numerous paths, floods in winter
Access
There are numerous paths around this reserve, some are easier to access than others. Contact us for more information.
When to visit
Opening times
Open at all times
Best time to visit
April to September
About the reserve
What is there to do here?
Here at Leam Valley you can try one of our new, interactive, measured mile trails! Get the kids out, active and enjoying nature. It's only one mile long with activities along the way, to keep your young ones running to the next post. "Flap your wings like a butterfly", "hop like a frog" and "scurry like a beetle" along the route. The trail meanders through the site starting at the entrance opposite the far end of Jephson Gardens - follow the wooden markers!  
What's it like to visit?
While you're here try spotting the numerous fish in the River Leam where roach, perch and common bream lurk in the depths. A magnificent range of dragonflies and damselflies flit along its banks including banded demoiselle, darters, chasers, hawkers and the emperor dragonfly. Kingfishers can be spotted here and are known to breed along the river. The elusive grass snake may be seen as it swims amongst arrowhead, yellow water-lilies and flowering-rush.
At the edge of the river marsh-marigold, yellow iris and purple-loosestrife flower alongside rushes, sweet-grass and common reed. It is hoped that one day soon, this ideal habitat will welcome the arrival of otter as it gradually re-colonises the county.  The rich marsh is dense with many marsh-loving plants, including cuckoo flower, ragged-robin and even the rare snakes-head fritillary. Over the largest area of grassland, cowslips are charmingly scattered amongst the many species of grasses. An abundance of butterflies are attracted including brimstone, peacock, comma and red admiral, with plenty of browns, whites and skippers.   
Hands on conservation taster days
Practical conservation taster sessions started in March 2020.  If you live locally and are keen to try something new, we would love to hear from you. Everyone is welcome, all tools and training is provided and you're welcome to come just once, once a month or every week there's no minimum commitment.
Your free taster sessions:
To find out more or to sign up to a taster session, please contact Kat Reay, Leamington Green Connections Project Officer, kat.reay@wkwt.org.uk. or 07703 192198. 
Species
Environmental designation
Local Nature Reserve (LNR)