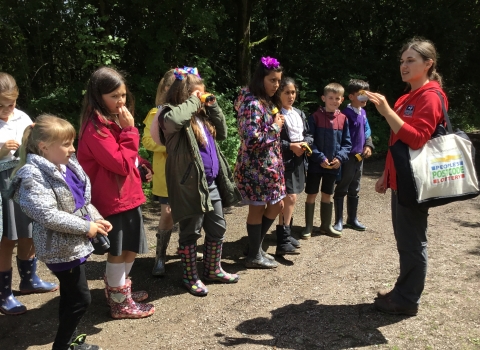 Welcoming children to our Education Centres for wild outdoor learning
A day out with us provides an unforgettable learning experience for children from reception to secondary school ages. School groups, uniform groups, home education groups and more can book a day at our Environmental Education Centre at Brandon Marsh near Coventry or at the Parkridge Centre in Solihull.
All of our sessions support the National Curriculum from Foundation stage to A level. They support core subjects, with focuses on science, geography and citizenship. All of our activities are practical based and designed to involve learners in understanding the environment, conservation and developing investigative skills.
School groups
Brandon Marsh Nature Centre
Brandon Marsh is the ideal place for your school visit as there are excellent opportunities for learning about wildlife, nature and the environment. We have ponds, bird hides, meadows and woodlands all set within our 200 acre nature reserve. 
The Education Team can provide your school with a tailored package for your day, which could cover up to four different topics. We have excellent facilities for children of all ages as well as those with special educational needs. There is an area for children to eat their lunch outdoors or in the classroom as well as a tearoom if the teachers need a well-deserved cup of tea! The children can visit the gift shop during their lunchtime to purchase fun, wildlife souvenirs.
The Parkridge Centre
The Parkridge Centre is in a great location in the heart of Brueton Park, Solihull. It is ideal for all children, young and old to explore the area and experience the wonderful nature and wildlife across the enclosed five acre nature reserve. There is a classroom and courtyard for the children as well as a well-marked path through the park. The Nature Reserve has a lake which attracts birds and other wildlife, an arboretum which is ideal for minibeast hunting or den building, a Forest School Woodland and a play area that can be used at lunchtime.
The Parkridge Centre is a great place for introducing children to nature and the wildlife that they can find on their own doorstep. The reserve is very secure, with a fence running around it's perimeter with easy access gates, if and when needed.
School grounds

We can also visit you at your school or at a local nature reserve and run some of our educational programmes or even our new Forest School sessions for you. It helps to keep transport costs to a minimum as well as being greener and allowing you to utilise the wild spaces you have on your doorstep. For more information please contact us.

We've been helping schools throughout Coventry, Solihull and Warwickshire make a difference for nature in their school grounds. From small projects such as encouraging schools to leave a wild patch, or giving an assembly to the school to inspire them to get started, to more hands-on activities such as making bird and bat boxes.

You can download a copy of our Warwickshire Wildlife Trust School Pond Pack and Wildlife Garden pack which will help you on your way to creating a fantastic wild area in your school.

School wildlife garden pack
Uniform groups

We deliver high quality affordable educational sessions for informal groups such as Cubs, Scouts, Brownies and Guides at all levels. Sessions can be run just for fun or with a certain badge or theme in mind.

If you would like to find out more about how we can help you or to arrange a pre-visit to either of our sites then please do not hesitate to contact us:

Phone 024 7630 2912

Email Victoria Dunne, Education Manager v.dunne@wkwt.org.uk
Find out more in our Education Pack
Click on the image below to read the pack via Issuu. 
FAQs
Find out more details about your day with us
How much does it cost per child?

Primary £4.50 for a half day and £6.50 for a full day, £7.00 for a Secondary school full day. All prices exclude VAT.
How many groups do I have to split the class into?

We generally try to work in groups of 20, so groups of 60 will be split into 3.
When does my trip start?

Trips start at 10am and finish between 2pm and 2:30pm
Is there somewhere to eat lunch?

Brandon Marsh Nature Centre has a covered picnic area and the Parkridge Centre has an outdoor area. If the weather is bad you can eat lunch in our classrooms.
Is there a shop?

There is a shop at Brandon Marsh Nature Centre that the children can use if requested. The Parkridge Centre does have a small shop but it is not suitable for groups. We can prepare goody bags at both sites.
What happens if it rains?

We will always try and complete all the sessions as planned, but please ensure that all students are dressed appropriately for the weather.
How do I book?

To book simply get in touch with the education team, either by calling 024 76 302 912 and pressing option 6 or by emailing education@wkwt.org.uk