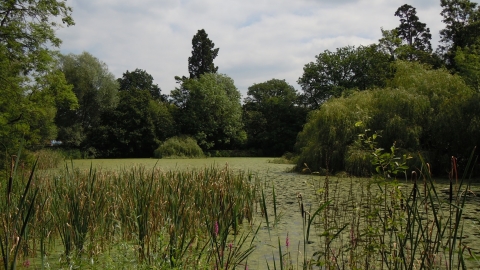 Parkridge Centre, Brueton Park
Set in the middle of Brueton Park, on the edge of Solihull Town Centre, the Parkridge Centre and its 5.5 acre nature area offer a tranquil setting for environmental education and information, plus a wide variety of nature conservation events and activities throughout the year.

The Parkridge Centre is a short walk through a public park from the car park. Please follow signs for 'The Parkridge Centre'.

***Please note that signs referring to the 'nature reserve' will take you to a grassland site situated outside Brueton Park over the river.***
Location
Know before you go
Grazing animals
No
Walking trails
Flat and easy
Access
The area around the reserve is relatively flat and easy for all to access.
When to visit
Opening times
Winter
Centre and tea room: 10.00am - 4.00pm
Nature reserve: 10.00am to 3.30pm

Summer (British Summer Time)
Centre and tea room: 10.00am - 4.30pm
Nature reserve: 10.00am to 4.00pm
Best time to visit
April to August
About the reserve
The Parkridge Centre contains displays and information about the nature area, as well as a tea room and small gift shop. Outside the centre, you'll find a number of trails to guide you round the nature area looking for trees, birds and other exciting features, as well as a fun adventure playground for children of all ages to enjoy. There's also a purpose-built classroom for school visits for a variety of curriculum-related activities. We run Nature Tots every week with more children's activities during the school holidays and Really Wild Birthday Parties!
What can you see here?
Around the nature area you'll see a whole variety of birds including robins, blackbirds, blue tits, great tits, tree creepers, nuthatches, chaffinches and squirrels. Moorhens, mallards, tufted ducks and a regular heron have all made our lake their home. Special trees include giant redwoods from the West Coast of America, iron wood trees from the Middle East, black walnut, handkerchief trees, maples and some fine mature oak trees.  
Enjoy the tea room and shop!
At the end of your visit, enjoy a nice cup of tea and a snack in the tea room before browsing through our well-stocked gift shop. Ideal for a morning coffee, lunch or afternoon tea, the tea room offers a quality menu including cakes, baked potatoes, soups, fresh sandwiches and paninis.
Contact us
Warwickshire Wildlife Trust