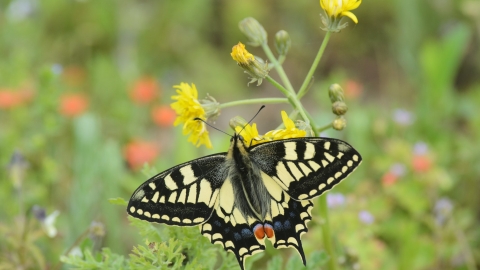 Wetland and meadows within the floodplain of the River Anker with a wide range of butterflies and dragonflies
Location
Know before you go
Parking information
On the roadside off Alvecote Lane
Grazing animals
Cattle almost all year-round
Access
Flat, but no wheelchair access as there are stiles to cross; soft patches; floods in winter.
Dogs
No dogs permitted
Assistance dogs only
When to visit
Opening times
Open at all times
Best time to visit
May - Aug
About the reserve
Enjoy exploring two delightful meadows, swampland and a small stream.   
What's it like to visit?
These meadows form part of the largest SSSI in Warwickshire, Alvecote Pools. On your visit you can experience a variety of wetland habitats, including wet grassland, marsh, open water and reed swamp filled with with water mint, greater pond sedge and common flea-bane.  In summer watermint, water forget-me-not and marsh thistle will be in flower. 
What might you spot?
The different wetlands attract a large range of dragonflies and damselflies plus birds like snipe, pied wagtail, goldfinch and kestrel. Twenty-four species of butterfly have been seen here, including dingy skipper, small heath and wall brown and some nationally scarce beetles hide out in the marshy areas.   Ruddy darter dragonflies are a familiar sight darting by the stream that divides the two meadows, and even the occasional common hawker, a rarity in Warwickshire.   
Alvecote Meadow's mature oak trees, ash and willow offer ideal spots for tawny owl, sparrow hawk and plenty of little finches. The grassland attracts snipe, lapwing and little egret.
Are you interested in spotting reptiles or amphibians? Grass snake, frogs, toads and newts are regular visitors to this reserve.
Habitat
Environmental designation
Site of Special Scientific Interest (SSSI)