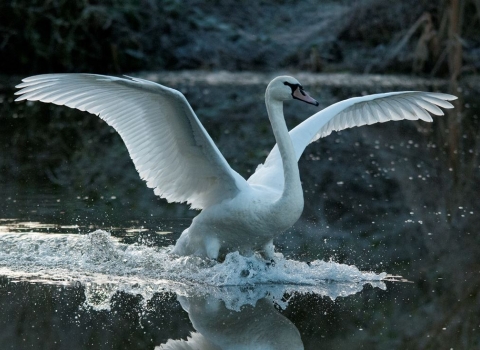 Celebrating 50 Years
2020 is Warwickshire Wildlife Trust's 50th anniversary
Since our beginnings as a group of local people gathered to help wildlife thrive on our doorstep, we have grown from 2 to 67 nature reserves and now have over 24,000 supporters. 
A gallery looking back over the last 50 years!
Our history
Before establishing as a separate charity in Warwickshire, we were part of a West Midlands Nature Conservation Trust which covered the whole of Warwickshire, Worcestershire, Staffordshire, Birmingham and the Black Country. The first meeting of that organisation was in January 1958 and recorded they were in debt by £39.  Thanks to the generosity of the founding members by the end of the first year they reported a £16 surplus. Due to the difficulty managing such a large area the different counties eventually broke off. and Warwickshire Nature Conservation Trust was formed in 1970. The name was abbreviated to Warnact which also served as a play on words in that we would 'warn' of threats to the environment and 'act' to remedy those threats.
In 1974 The Trust we owned our first nature reserve, Clowes Wood, an ancient woodland with a mix of trees, streams, a pond and a small meadow, acquired thanks to the generosity of an anonymous donor . In 1976 we opened Draycote Meadows nature reserve and in 1980 we moved our headquarters to 1 Northgate Street in Warwick and appointed our first Conservation Officer.
 In 1990 we changed our name to Warwickshire Wildlife Trust. and our Brandon Marsh Nature Centre was opened by Sir David Attenborough in 1992. In Solihull the Parkridge Centre was opened by Professor David Bellamy in 2002 in the year that our membership reached 16,000.
Read more of our history here.
Fundraising in our 50th year
In our 50th birthday year we've thought of 50 ways you could raise extra funds for us in this special year. We know that several ideas will now not be possible with the Government's advice on COVID 19 but many of the suggestions can be done at home.  Take a look!