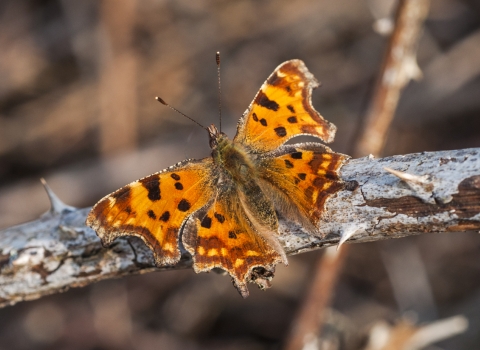 Local Biodiversity Action Plan (LBAP)
As a signatory to the Convention on Biological Diversity, the UK is committed to using a set of indicators to report on progress towards meeting international targets. The UK Biodiversity Indicators 2014 review shows long-term bad news for farmland and woodland birds and butterflies.
The links below take you to the latest updates to the Warwickshire, Coventry and Solihull Biodiversity Action Plans. These plans were compiled between 2002 and 2005.
There are 52 biodiversity action plans for Warwickshire, Coventry and Solihull, 27 for our vulnerable species and 25 for our characteristic habitats, ranging from woodlands and wetlands to urban and rural settlements.
Gina Rowe
Chair of LBAP, Head of Living Landscapes (Projects)
t:  024 7630 8976
e: gina.rowe@wkwt.org.uk
Why biodiversity matters
Biodiversity contributes to what makes the Warwickshire, Coventry & Solihull distinctive. Imagine a world without:
animals and plants in your local park
bees and butterflies on flowers
ladybirds on your windowsill
a bluebell wood alive with bird song
a meadow full of wild flowers
a pond with flowers and frogs
hedges full of blossom
We all depend on water, oxygen and food which are provided by the variety of habitats and species around us. The quality of our lives is greatly enriched by wildlife and it has been shown that contact with wildlife and open spaces improves our health and well-being.
Yet our biodiversity faces great challenges from the activities of people. The need for homes , food transport and jobs has inevitably led to the loss of species and habitats. We need to restore and rebuild biodiversity.
The 1992 Rio Earth Summit was the first international attempt to do this. Over 150 countries pledged to conserve their dwindling biodiversity and by 1994 Britain had published a UK Biodiversity Action Plan and encouraged local people and organisations to form partnerships to produce and deliver their own Local Biodiversity Action plans. 
The framework for considering biodiversity within UK legislation / regulation is provided by the Natural Environment and Rural Communities (NERC) Act 2006. This placed a duty on local authorities and other public bodies to consider the conservation of biodiversity when carrying out all of their functions in order to raise the profile of biodiversity.