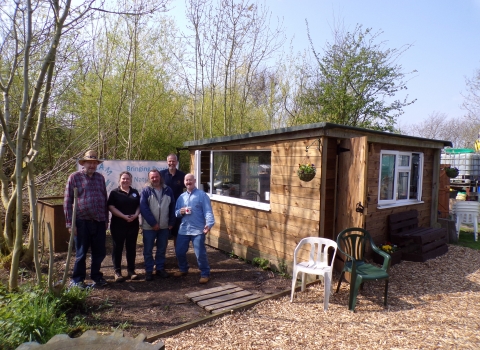 Wild Wellbeing
Warwickshire Wildlife Trust has partnered up with Coventry and Warwickshire Mind after successfully securing over £350,000 from the National Lottery Community Fund to provide positive, engaging outdoor experiences for people experiencing poor mental health in Coventry. 
About us
TEaM is a Wild Wellbeing project (based on principles of eco-therapy) in partnership with Warwickshire Wildlife Trust, Coventry and Warwickshire Mind, and Coventry City Council. We are based across Coventry at various sites including allotments, rivers, woodlands, parks and greenspaces, all of which are easily accessible by public transport.
We are here to help enhance your mental health and wellbeing through outdoor activities which include:
Planting, growing and harvesting food and flowers
Learning about nature and wildlife
Seasonal crafts and woodwork
Walks, talks and visits
Socializing with other TEaM members
New 6 week Bushcraft course (find out more below)
These are just some of the activities we have for people to take part in. Don't worry – no previous knowledge or experience is needed. Simply come along and meet the TEaM.
Jess's story
Jess grew up in an urban environment, not used to encountering much of the natural world as a child. Jess joined the TEaM bush-craft programme through Recovery Academy and has shared the story of her experience in the film below. 
Jon's story
Watch the film of Jon's life-changing experience with TEaM. Jon's story continues with us as a member of The Environment and Me Project. You could begin your story with us today – please read more below to find out about what we do and how to get involved.
Who is TEaM for?
TEaM is a service for individuals over the age of 18 who are living in Coventry. This service may especially benefit those:
Who are experiencing anxiety or depression
Have been diagnosed with a moderate/severe mental health condition
Who feel lonely or isolated
Who have low self-esteem/confidence
Who have been signed off of work due to poor mental health
TEaM Up! newsletter
TEaM Up! is the weekly newsletter delivered by The Environment and Me to help you stay connected with nature when it's difficult to get out and about. With articles, puzzles and photographs of our local wildlife, TEaM Up! aims to help boost wellbeing and raise a smile by bringing a little bit of the outdoors to you, wherever you may be.
What we have to offer
We run 8-week courses and longer-term opportunities side-by-side. And a new 6 week bushcraft course.
The courses provide an opportunity to:
Make new friends
Learn gardening and practical skills
Strengthen your connection with nature
Relax in a safe space
Learn the Five Ways to Wellbeing in the natural environment
Most importantly, tea/coffee will be provided!
Volunteering opportunities are also available for those interested. 
Our new roaming conservation group
Would you like to join a new roaming conservation group which can help improve your mental wellbeing? If you're facing poor wellbeing or physical health, depression or anxiety our new group is aimed at supporting you.
We'll be at a different site each month starting with one day a month and working at a pace which suits the group. You don't need to have any prior experience of conservation tasks, just a desire to be outside, doing something physical in nature with company!
Email us if you'd like to find out more! rosie.charter@wkwt.org.uk. 
Bushcraft Programme
As part of the TEaM approach to 'Bringing People, Nature and Wellbeing Together' we are excited to be offering our new 6-week bush-craft programme in partnership with the Recovery and Wellbeing Academy. The course is held in tranquil woods at our Brandon Marsh Nature Reserve. Transport is provided, for those who need it, to and from CWMIND and the Reserve. Sessions are structured around the 5 Ways to Wellbeing with activities including fire-lighting with just a spark, green-woodworking, charcoal making, willow weaving and more.
For adults living in Coventry who are experiencing anxiety, depression, isolation or just poor wellbeing, this course offers the opportunity to escape into nature, meet warm, friendly people and learn new skills in a relaxing natural setting.
To enrol online please visit this web page or call: 02476 229988 or 0300 3032626. 
Alternatively contact TEaM at team@cwmind.org.uk or on 02476 554468. You can also download this enrolment form, print it, complete it and return it to: 
Martin Felstead, 
The Environment and Me (TEaM)
Warwickshire Wildlife Trust
Brandon Marsh Nature Centre
Brandon Lane
Coventry, CV3 3GW
Let the soothing powers of nature work their magic.
Referrals and Contact Info
If you wish to make a self-referral, please follow this link or download a self referral form at the bottom of this page.
If you would like any further information or to speak to one of the team, please get in touch:
t: 02476 554468
e: team@cwmind.org.uk