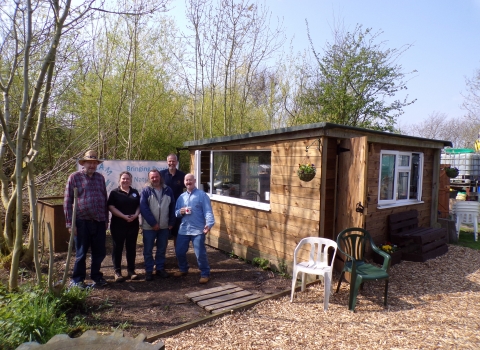 Wild Wellbeing
Thanks to funding from the National Lottery Community Fund Warwickshire Wildlife Trust, in partnership with Coventry and Warwickshire Mind, are delivering The Environment and Me Project (TEaM) which is working with people in Coventry and Warwickshire to improve their mental health by spending time in nature.
TEaM works at a wide range of sites, from allotments and gardens to rivers and woodlands. We support people experiencing mental ill health to join us in a range of activities to help maintain, manage and improve their mental health.
"The staff, volunteers and clients are such an amazing bunch of people I wouldn't like to think where I'd be without them. I mean, after 20 years of living the way I had, I basically had to start all over and learn how to talk to people again and everyone has made that possible. It's been the best medicine out of all the rubbish I'm on, it's done more for me than any of the doctors have done" (TEaM Participant 2020).

 
Who is the project for?
TEaM is a service for individuals over the age of 18 who are living in Coventry and Warwickshire. This service may especially benefit those:
Who are experiencing anxiety or depression
Have been diagnosed with a mild, moderate or severe mental health condition
Who feel lonely or isolated
Who have low self-esteem/confidence
Who have been signed off of work due to poor mental health
What we do
Due in part to Covid-19 and also a change in project staff we are only able to offer the following activities for people currently;
8 week Bushcraft course (Coventry and Warwickshire):
We are excited to be offering our new 8-week bush-craft course in partnership with the Recovery and Wellbeing Academy. The course is being delivered in both Coventry and Warwickshire and is for adults who are experiencing anxiety, depression, isolation or just poor wellbeing. This course offers the opportunity to escape into nature, meet warm, friendly people and learn new skills in a relaxing natural setting. Sessions are structured around the 5 Ways to Wellbeing with activities including fire-lighting with just a spark, green-woodworking, charcoal making, willow weaving and more.
You can find out more and sign up for a course here from the beginning of June 2021: https://www.recoveryandwellbeing.co.uk/ where you can also find out about more mental health courses. Or you can call: 02476 229988 or 0300 3032626 to book onto a course. You can also watch the video below to see more about the course.
If you are an armed forces veteran we also have courses just for veterans you may be interested in.
Or if you are long term unemployed and are looking to get back into education, employment or training we also have courses aimed at building soft skills for the work place.
We will be delivering more activities soon which will include; 8 week horticultural therapy group; roaming nature conservation group; wild wellbeing walks and sessions down at our allotment site for people with more severe and enduring mental ill health. So keep an eye on this webpage or sign up for our monthly newsletter to find out what is on.
Jess's story
Jess grew up in an urban environment, not used to encountering much of the natural world as a child. Jess joined the TEaM bush-craft programme through Recovery Academy and has shared the story of her experience in the film below.