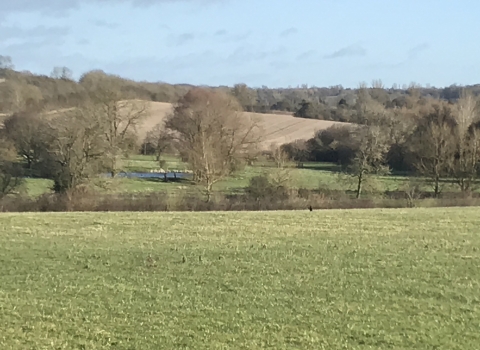 Severn Trent Agricultural Adviser Project
Over 70% of Warwickshire is agricultural land, therefore in order to achieve Living Landscapes we must work collaboratively with farmers and land managers to make space for nature.  Warwickshire Wildlife Trust has recently joined forces with Severn Trent to help tackle diffuse water pollution. We are working with farmers in targeted river catchments across Warwickshire to support and encourage the good work that is already being done to reduce the amount of harmful nutrients, pesticides and sediment entering our precious rivers. 
What's the problem?
Diffuse water pollution is a term used to describe pollution that comes from different sources across a river catchment that often cannot be traced to a single point.
Diffuse water pollution is the single largest agricultural contribution to the failure of water bodies to achieve good ecological status under the EU Water Framework Directive.
According to DEFRA, farming accounts for 25% of phosphate, 50% of nitrate and 75% of sediment loadings in the water environment.
Diffuse water pollution has no single point of origin in the landscape therefore poses a significant policy and management challenge.
How can we manage diffuse water pollution?
Manage it at the source
Think about what is put on the land and when, how fields are cultivated and what is grown.
Manage how pollution moves through the environment
Think about the timing of applications of nutrients and pesticides to ensure that these essential and costly resources are doing the best for crops and are not wasted by being washed or blown away.
Manage the pathways across the landscape 
Think about how machinery is moved across fields to reduce compaction, consider moving gateways to reduce erosion hot spots.
Protect the receptors 
Drains, rivers, pools and groundwater are vulnerable to pollution, cleaning and filtering water before it reaches these receptors is the best way to protect our vital water resources.
The Warwickshire Wildlife Trust and Severn Trent partnership approach
The partnership makes use of the knowledge and expertise of Warwickshire Wildlife Trust in working with farmers and the environment. Our advisor is helping to provide advice and support to eligible farmers in applying for Severn Trent grants programs including Farm to Tap and STEPS.
Farm to Tap is an incentive scheme that focuses on working with farmers to help reduce the impact of pesticides and other run off from agricultural land on water quality. This year we are working with farmers to reduce the use of metaldehyde (a pesticide used to kill slugs). Metaldehyde has been found to be very damaging to birds and mammals and it is costly to remove from drinking water supplies. The Farm to Tap scheme has been really successful and has encouraged farmers to work together with their neighbours to reduce the use of metaldehyde.
The STEPS (Severn Trent Environmental Protection Scheme) grants are available to farmers within priority river catchments. They provide a wide variety of options to help farmers protect soil, biodiversity and water in a sustainable way. Funding is available for projects ranging from fencing, to pesticide wash-down areas and biobeds. In addition to the extensive pre-defined list of grant options, STEPS also recognises the fact that farmers are innovators and provides funding towards ideas and activities that help to protect our valuable water resources.
 
The map below shows the Upper Avon river catchment in purple and the Leam river catchment in red, which are the target areas for this project.
If you are a farmer or landowner within the Leam or Avon catchments and would like to speak to our Agricultural Advisor please contact peter.bowman@wkwt.org.uk.