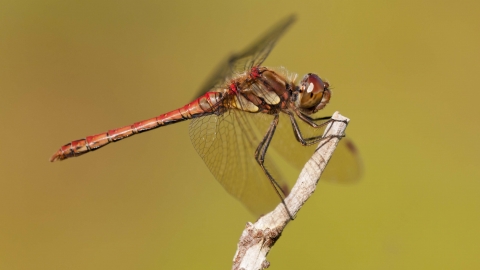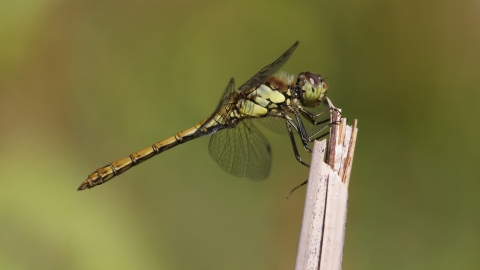 Common darter
Scientific name:
Sympetrum striolatum
The Common darter is a red, narrow-bodied dragonfly that can be seen throughout summer and autumn. It is hovers around all kinds of waterbodies, darting out to surprise its prey.
Species information
Category
Statistics
Length: 3.8-4.3cm
Conservation status
Common.
When to see
July to October
About
The Common darter is a small, narrow-bodied dragonfly that is typically on the wing from July to October, but can appear as early as May and still be around in December if its mild. This is a very common dragonfly, breeding in all sorts of waterbodies from ponds and ditches, to rivers and lakes. As their name suggests, Common darters dart forward suddenly from a hovering position to catch their insect-prey. They then take their catch to a favoured perch to eat it.
How to identify
Male Common darters are bright red, while the females and immature adults are golden-brown. There are several similar-looking red darters which can be very difficult to tell apart.
Distribution
Widespread.
Did you know?
In the late summer, Common darters can be found almost everywhere, sat on twigs and fences, and angling their wings towards the sun to warm up.
How people can help
The Wildlife Trusts manage many wetland nature reserves for the benefit of the wildlife they support. You can help by supporting your local Trust and becoming a member; you'll find out about exciting wildlife news, events on your doorstep and volunteering opportunities, and will be helping local wildlife along the way. Encourage dragonflies and damselflies into your garden by having a wildlife-friendly pond. To find out more about gardening for wildlife, visit our Wild About Gardens website: a joint initiative with the RHS, there's plenty of facts and tips to get you started.