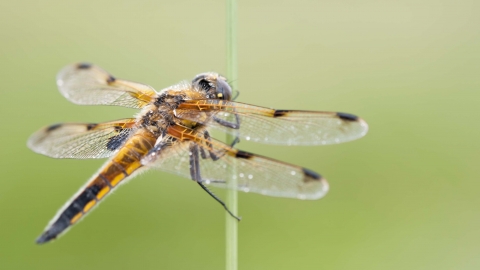 Four-spotted chaser
Scientific name:
Libellula quadrimaculata
The Four-spotted chaser is easily recognised by the two dark spots on the leading edge of each wing - giving this species its name. It can be seen on heathlands and near ponds and lakes.
Species information
Category
Statistics
Length: 3.9-4.8cm
Conservation status
Common.
When to see
May to September
About
The Four-spotted chaser is a medium-sized, fairly broad-bodied dragonfly. It is on the wing from May to September, sometimes even into October. It is commonly found on heathland and moorland, as well as around ponds, lakes and in woods. Four-spotted Chasers are active dragonflies, spending a lot of time hawking over water for insect-prey or to mark out their territories. They mate on the wing; the female then hovers over the water, dipping the tip of her abdomen into drop her eggs on to vegetation below the surface.
How to identify
Both sexes of the Four-spotted chaser are golden-brown, getting darker towards the tip of the body, and with yellow spots along the sides. Two dark spots at the front edge of each wing give this dragonfly its name and an easily recognisable appearance.
Distribution
Widespread.
Did you know?
Enormous migrating swarms of Four-spotted chasers have been recorded in Europe.
How people can help
The Wildlife Trusts manage many wetland nature reserves for the benefit of the wildlife they support. You can help by supporting your local Trust and becoming a member; you'll find out about exciting wildlife news, events on your doorstep and volunteering opportunities, and will be helping local wildlife along the way. Encourage dragonflies and damselflies into your garden by having a wildlife-friendly pond. To find out more about gardening for wildlife, visit our Wild About Gardens website: a joint initiative with the RHS, there's plenty of facts and tips to get you started.