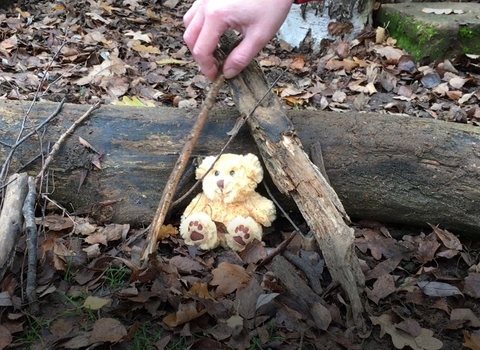 If you go down to the woods today...
Be sure to take a teddy bear!
In this session for Nature Tots, we revisit the tale of Goldilocks and the Three Bears and have a few activities and games for enjoying a woodland day out. Read our top tips for getting toddlers out and about, watch the video and then encourage them to take their teddy exploring!
Top tips for nature tots
Wrap up warm and wear your boots. Outdoor kit is available in most outdoor shops and online. Some supermarkets also have great outdoor clothing for little ones, or why not try to pick up some secondhand? Having dedicated muddy stuff takes the pressure off and allows you to relax and let them get dirty.
Go and explore the green spaces on your doorstep or find new places to visit. Your children will feed off your sense of adventure.
Take lots of pictures! A great shot of your child jumping off a log or throwing up a pile of leaves will soon be the best one you have of them.
Video: Join our education manager Vicky at Brandon Marsh Nature Reserve as she tells the tale of Goldilocks and the Three Bears, makes a home for a teddy and stirs up some woodland porridge!
Play a game
Woodland snap!
Collect 4 or 5 natural objects and hide them under a blanket.
Show your child/children the objects for 20 seconds.
Take this time to explain what they are before covering them over again.
They must try and remember what they saw and collect the same.
Keep giving them lots of hints and another look if they need help.
1, 2 ,3 where are you?
Tell the children they are going to hide in the woods while you count to 20 (preferably in groups with an adult).
After you have counted to 20, shout out: "1, 2, 3 where are you?" The children are going to shout back: "1, 2, 3 we're over here!"
Tell them you are going to use only your hearing to find them.
Once they have been found they must help the leader find their friends using the same call outs of "1,2,3 where are you?" and "1, 2, 3 we're over here!"
Silly shapes and pretty patterns
Tell your child different shapes they must make using sticks and say you want to see them as big as possible but within reason.
Start off with easy shapes such as a square, triangle and circle, then move on to trickier ones such as a house.
Finally, ask them if they can come up with a pattern using at least 6 of these shapes.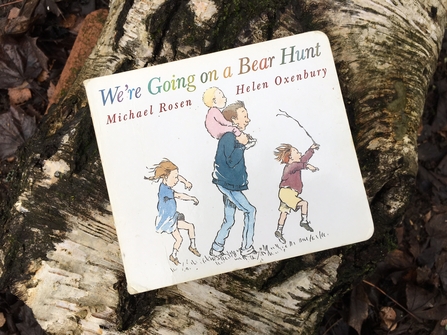 One of our all time favourite books is We're Going on a Bear Hunt. This timeless classic by Michael Rosen and Helen Oxenbury is full of fresh air, mud and outdoor fun!  If you decide to go on a bear hunt, or exploring with a teddy, why not make a journey stick to remind you of your adventure? 
DOWNLOAD THE ACTIVITY SHEET