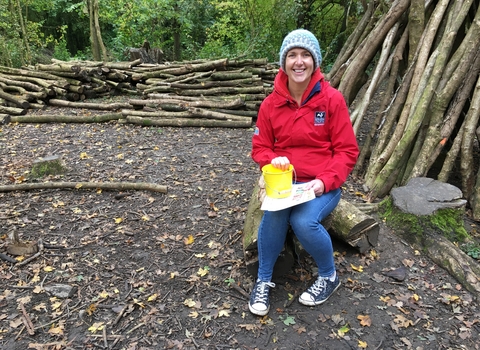 Become a woodland mathematician
Counting, collecting and symmetry for tots!
Join our education manager Vicky in Cock Robin Wood near Rugby as she explains in the video a couple of simple counting and collecting games for tots, and creates a woodland floor firework from leaves using a traditional mandala pattern. 
Download our Really Wild Maths activity sheets below for your own treasure hunt or leaf bingo game, and take a look at the extension activities if you have a little longer and would like to introduce some simple sums. There is also an activity sheet to help you create your own mandala nature collage.
Top tips: Set safe boundaries for your little explorer/s and remind children to look out for nettles and spiky plants.
Download an activity sheet
Extension activities
When the children have completed their Really Wild Maths challenges, additional activities might include:
Asking them to organise all of their finds on the floor in size order from shortest to longest.
Simple sums: for example, what is the number of sticks plus the number of green leaves? Or crunchy leaves plus brown leaves?
Try asking your pre-schooler to make the shape of each number on the floor using their sticks and leaves and whatever else they can find.
See how many simple shapes can be made on the floor using what they have found, starting with a triangle, square and circle.