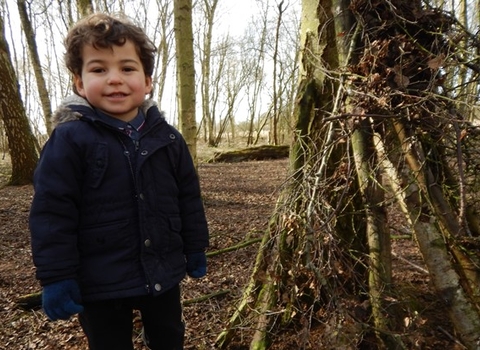 Make a teeny tiny den
Use natural materials to create an imaginary world of outdoor play
Teeny Tiny Dens is all about getting outdoors whatever the weather. You don't need any special equipment, just the right clothing for the conditions and a wild sense of fun and imagination to create a pretend camp site. 
Video: Join Education Manager Vicky in the video below for some inspiration as she creates her very own teeny tiny den and find out whether she will fit in it! There's also fun to be had making a fantasy camp fire, a leaf kebab to cook on it and a mud pie.
Build a bigger den!
If you have more time or older children to entertain as well, you might like to go for the full-on survival challenge! Check out our activity sheet for ideas of how to create a den, use a spray bottle or hose pipe to test it, and use our survival challenge scores below to see how you did!
Survival Challenge!
Award yourself points for each feature:
Secure roof which keeps out the rain: 20 points
Walls: 20 points
A Fire: 15 points
Camouflage: 15 points
Seats: 10 points
Wood store: 10 points
Water collection: 10 points
Garden: 5 points
'Traps' for catching animals: 5 points
Windows: 5 points
Decorations: 5 points
Rations: 5 points
Great teamwork? Fantastic, add another 20 points!
Add up your scores. Out of a total of 145, how did you do?
100-145: Congratulations, you are the next Bear Grylls!
50-100: You might have fun camping out on a warm summer evening but you had better hope it doesn't rain and that you have enough rations!
0-50: Probably best to head home before it gets dark!
DOWNLOAD THE ACTIVITY SHEET
Explorer rules for survival
Never pull branches or leaves from trees.
Be careful when carrying large pieces. Ask for help from your team and watch where you are going.
Play fair, don't take each other's den building materials.
Watch out for stinging plants like nettles.
Keep up team spirit and include everyone!