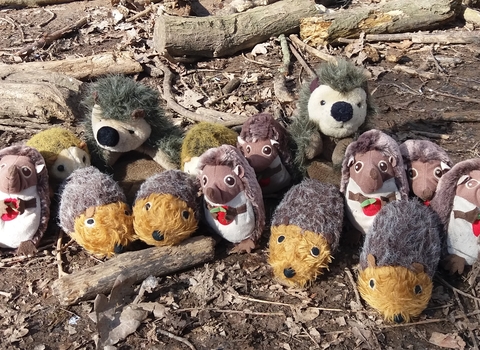 How to hibernate if you're a hedgehog!
Explore the world of this nocturnal mammal with our activities.
Use our resources with your aspiring wildlife explorer or pupils to create your own outdoor learning session all about hedgehogs. We have some creative play – which can be a little muddy! – an activity sheet and some suggestions for a few games.
Video: Join our education manager Vicky as she explains all about our prickly friends and their hibernating habits in her very own hog vlog! Watch to the end and you'll also find out how to make a mud hedgehog!
Download an activity sheet
Hog fact file!
Hedgehogs are mammals.
They are nocturnal, which means they are active at night.
In the daytime, they hide under bushes and hedges.
Hedgehogs eat all kinds of invertebrates and 1 hedgehog can eat 100 minibeasts every night – favourite meals include big crunchy beetles, worms and snails.
Hedgehogs are a gardener's friend because they will also happily hoover up slugs in vegetable beds!
They have between 5,000 and 7,000 spikes which are actually modified hairs.
When threatened a hedgehog can roll itself into a spiky ball.
From about November to April hedgehogs hibernate.
Hedgehogs have a lifespan of 2-3 years.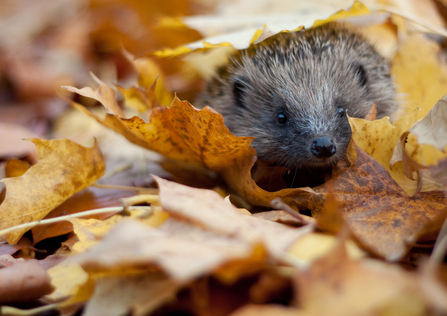 Play a game
Hedgehog homes
In this game, we ask the children to think about what kind of home a hedgehog might need to survive during hibernation: shelter from the elements, camouflage, a food source and bedding to keep warm and comfortable in bad weather.
Each child collects any natural materials they can find to create a hedgehog home. Once finished, ask them to talk about their home and its location and the design elements they've included such as for access, resources and protection.
A small hedgehog or cuddly toy, even a tennis ball to represent a hedgehog, can give the children something to build their 'home' around and the more creative the better!
Who's Hibernating?  This a fun game for groups:
Shout 'go to sleep' and the children must all curl up in a ball and close or cover their eyes.
Cover up one child up with a large blanket.
Then shout: 'Whose hibernating?'
The children must guess who's hidden under the blanket!
Did you know?
Hedgehogs explore far and wide in search of food, mates and nesting sites – the average hedgehog roams 2km a night! We can help them by connecting our gardens, with holes through or under fences and walls to create hedgehog highways!  You can find out more about how to create a hog hole here and for more tips on helping hedgehogs in your garden, take a look at our video!