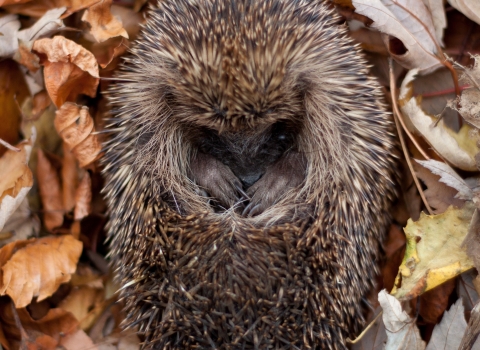 Helping hedgehogs
Hedgehogs are thought to be in serious decline in Britain. One estimate suggests there were over 30 million in the 1950's which has dropped to under a million now. There is no single cause of hedgehog decline which makes it harder for us to tackle. Our Help For Hedgehogs campaign has been running since May 2013, aiming to boost the hedgehog population across Warwickshire, Coventry and Solihull. Our campaign aims to raise awareness and take action for the conservation of this iconic animal. 
In 2015 we set up the UK's first Hedgehog Improvement Area (HIA) in Solihull. Following its success, its sister HIA was launched in Rugby in 2016, both funded by the British Hedgehog Preservation Society.  
Seen a hog?
Log your sighting here! Your sightings help us create maps which show hedgehog distribution and highlight 'hotspots' and 'blackspots' of hedgehog activity. Hotspots are often in the suburbs, where there are large gardens and suitable habitat connected through the landscape. These areas could act as refuges for hedgehogs, with levels of decline thought o be most dramatic in rural areas. 
There are often blackspots in urban areas, where habitat can be unsuitable for hedgehogs with large areas of grey infrastructure, main roads fragmenting the landscape and rows of terraced houses with brick walls preventing hedgehogs from getting into and moving between gardens. 
How can you help?
Follow Help for Hedgehogs 10 point plan:
Link your garden
Keep a wild area - hedgehogs need dry, sheltered places to nest
Do not disturb - avoid disturbing hibernating hogs from November to March
Check before mowing - mowers and strimmers can cause serious harm to nesting hedgehogs
Make a log pile - rotting wood attracts lots of insects for hedgehogs to eat
Don't use pesticides - pesticides reduce the food available for hedgehogs to eat
Make ponds safe - hedgehogs can get stuck in ponds, build a ramp or ladder to help them get out
Tie up garden netting - hedgehogs can get tangled in slack garden netting
Don't drop litter - hedgehogs can get caught up in our rubbish and be seriously injured
Download this leaflet make your garden a hog haven. 
Torchlight surveying
Watch our Hedgehog Officers surveying overnight for hedgehogs and tagging them to monitor their numbers!
Thanks to Simon Watts of WILD Presentations for the film. 
Find out more about our Help for Hedgehogs campaign and work in Rugby and Solihull and download more useful guides to take action yourself on this website. 
Please note: we are not a rescue centre and do not take in hedgehogs. If you are concerned about a potentially poorly hedgehog please contact the BHPS who generously fund our Hedgehog Improvement Areas: BHPS website. You can call the BHPS on 01584 890801 for your nearest rescue centre.  Some vets will treat hedgehogs but do check first.