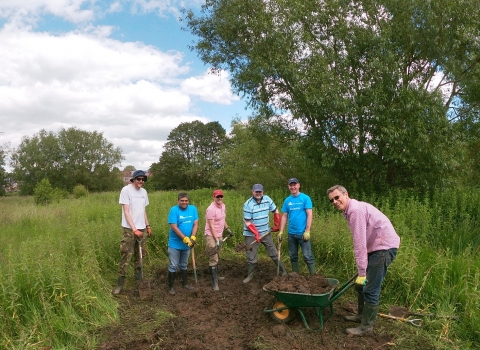 FAQs
How many employees can we bring on a Wild Work Day?
The ratio of participants to team leader varies according to the risk associated with the task however for most tasks, the maximum number per team leader is 15.  For tasks in or near water, this is reduced to 12.  We can accommodate up to 30 participants with an additional leader, subject to availability and an additional cost.
Can you provide a risk assessment of the activities?
The Trust writes full risk assessments for all the activities it runs for groups.  If you would like a copy, one can be provided on request.  We can also provide a copy of our Public Liability Insurance on request.
What is provided in terms of first aid?
All team leaders leading your sessions are first aid trained and will carry a first aid kit adequate to the size of the group.
What is provided in terms of tools and PPE?
All tools, equipment and appropriate PPE for the task is provided.  PPE in a used, good condition is provided in an effort to reduce waste.  If you would like to provide new gloves for your staff, these can be added to your order at an additional charge.
What do our team need to bring?
To make the most of your Wild Work Day it is important that your team wear appropriate clothing.  In the summer we recommend sunhats, sun cream and insect repellent.  In the winter waterproofs and warm clothes are recommended, including solid footwear, long trousers, a long sleeved top and a waterproof jacket to protect from nettles, thorns and the elements.  As we say, there's no such thing as bad weather, just bad clothing.
What is the level of physicality involved and fitness required?
The level of physicality is listed in the details of the task.  The nature of our work requires a certain level of fitness to work on uneven ground, often bending and some light lifting unless stated otherwise.
How can you accommodate for certain medical conditions?
The nature of our work is physical so do consider the capabilities of your team when booking.  If you have questions, please contact us directly.  On the day we will ask anyone with a disability, allergy or physical restriction to speak to the leader in confidence so we can adapt the task where possible.  If a cooler is required for carrying medication, please let us know in advance. 
When is payment due?
Payment is due at the time of booking.
Will the Wild Work Day go ahead in all weather?
Wild Work Days will go ahead in all weathers unless conditions compromise our risk assessment.  The task may be adapted in the case of bad weather.  Cancellations typically occur due to high winds.  Please ensure that everyone comes dressed appropriately.
Where do we park?
On street parking or a car park is available however we encourage car sharing as much as possible. Parking details and meeting point will be confirmed in your booking confirmation.
What is provided in terms of refreshments?
Tea, coffee and biscuits will be provided mid morning using flasks of hot water. We ask that everyone bring a packed lunch and a refillable water bottle.  We have had a number of groups where each person brings one thing and everyone shares a picnic lunch which is always very social.
What facilities are available?
Often there are no toilet facilities on our reserves so it really is a case of 'going wild'.  We strongly recommend ensuring the team is happy with this however, we will always provide details as to the nearest facilities which are normally a walk or short drive away.  The team leader will set up a portable hand washing station.  The details of the nearest facilities will be confirmed in your booking confirmation.
To book or find out more about our current opportunities, contact our Wildlife Engagement Officer, Faye Irvine, on:
e: faye.irvine@wkwt.org.uk
t: 024 7630 2912