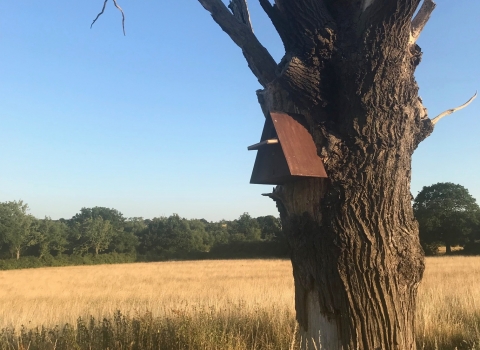 Arden Farm Wildlife Network
Over 70% of Warwickshire is agricultural land, therefore in order to achieve Living Landscapes we must work collaboratively with farmers and land managers to make space for nature.  The Arden Farm Wildlife Network was established in April 2018 thanks to funding for 3 years from Natural England's Facilitation Fund.  The project brings together like minded farmers to share best practice on how to improve their farm for wildlife whilst maintaining a productive farm.  We started with 18 members and have grown in the first two years to 37 farms, covering over 9,500 hectares. 
We work in partnership with Zoe Bell, an independent environmental agricultural adviser, who helps us in our work with the farmers.  It is free for farmers to take part in and led by them so the farmers choose what subjects they want to learn about and we connect them with a specialist on the subject.  So far, we have covered a variety of subjects ranging from butterflies to hedgehogs, barn owls to wild bird food crops.  The farmers then take what they have learnt back to their farm and think about how to make improvements.
This project aims to achieve
More, bigger, better, joined-up, diverse natural habitats (including nesting places and shelter) supporting farmland birds, pollinators and native mammals.
Healthy bees and other pollinators which are more resilient to climate change and severe weather events.
No further extinctions of known threatened native species.
Evidence of actions taken and demonstration of impact.
Below is a pollinator calendar showing some of the important plant species for pollinators throughout the growing season

Map showing members of the Arden Farm Wildlife Network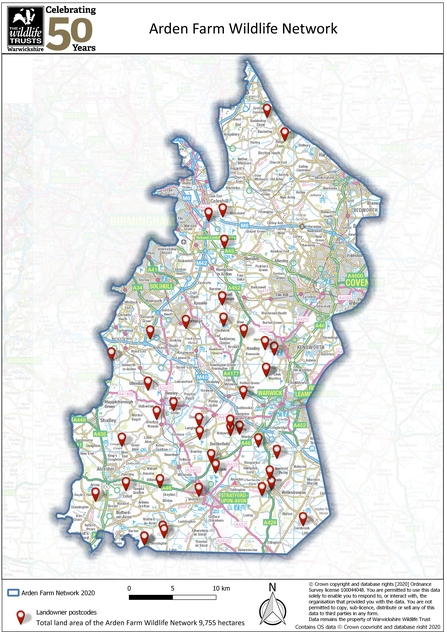 Barn owls have suffered huge declines over the last 50 years due to agricultural intensification and habitat loss. By working collaboratively the Arden Farm Wildlife Network is helping to restore their habitat and nesting sites at a landscape scale.  Thanks to £4,000 funding from Tesco 'Bags of Help' (which comes from the 5p charge for plastic carrier bags) we have worked with landowners across the area to install barn owl boxes and improve land management for barn owls at a landscape scale.  So a big thank you to everyone who voted for this project in local Tesco stores!
We have also successfully secured £17,380 from Severn Trent's 'Boost for Biodiversity' grant scheme to support a new 'Tree sparrow village' project.  This funding will help us to create over 11 hectares of wild bird seed habitat and 5.5 hectares of pollen and nectar flowers on farms across the area.  This, along with supplementary feeding of wild bird food over the winter months will give the tree sparrows plenty of food all year round.  In addition, the funding helps us to install 110 tree sparrow boxes across 11 farms in the area.  As tree sparrows live in colonies, it is vital that their boxes are placed in close proximity to each other.  Watch this space for further updates on the impact of the Arden Farm Wildlife Network over the coming months.
Over the next few years we aim to grow the membership of the group further and to identify the gaps in the landscape where habitat could be improved to allow wildlife to extend its range.  If you farm in the area and are interested in learning more about this project and how we can help you, then please feel free to get in touch enquiries@wkwt.org.uk
News
In early 2021 we were thrilled to share our Arden Farm Wildlife Network tree sparrow project with this podcast.  One of the farmers we work with, Nicky Saunders joined us to share her views on why being part of the network has been so rewarding.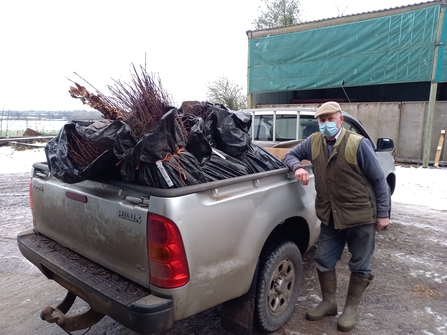 We've also distributed 8,530 trees to farmers in our Arden Farm Wildlife Network. Supplied by The Woodland Trust & Solihull Council these trees will fill gaps in hedgerows & create new woodlands. Great for wildlife & nature based solutions for capturing carbon & reducing flood risk.