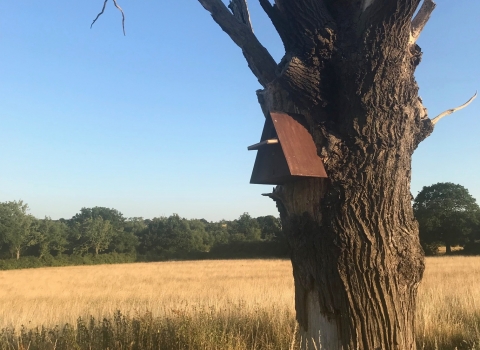 Arden Farm Wildlife Network
Over 70% of Warwickshire is agricultural land, therefore in order to achieve Living Landscapes we must work collaboratively with farmers and land managers to make space for nature.  The Arden Farm Wildlife Network was established in April 2018 thanks to funding for 3 years from Natural England's Facilitation Fund.  The project brings together like minded farmers to share best practice on how to improve their farm for wildlife whilst maintaining a productive farm.  We started with 18 members and have grown in the first year to 25 farms being involved covering over 9,000 hectares.  We work in partnership with Zoe Bell an independent environmental agricultural adviser to work with the farmers.  It is free for farmers to take part in and led by them so the farmers choose what subjects they want to learn about and we connect them with a specialist on the subject.  So far we have covered a variety of subjects ranging from butterflies, through to hedgehogs, barn owls and wild bird food crops.  The farmers then take what they have learnt back to their farm and consider how they can improve things.
This project aims to achieve
More, bigger, better, joined-up, diverse natural habitats (including nesting places and shelter) supporting farmland birds, pollinators and native mammals.
Healthy bees and other pollinators which are more resilient to climate change and severe weather events.
No further extinctions of known threatened native species.
Evidence of actions taken and demonstration of impact.
Below is a pollinator calendar showing some of the important plant species for pollinators throughout the growing season

Map showing members of the Arden Farm Wildlife Network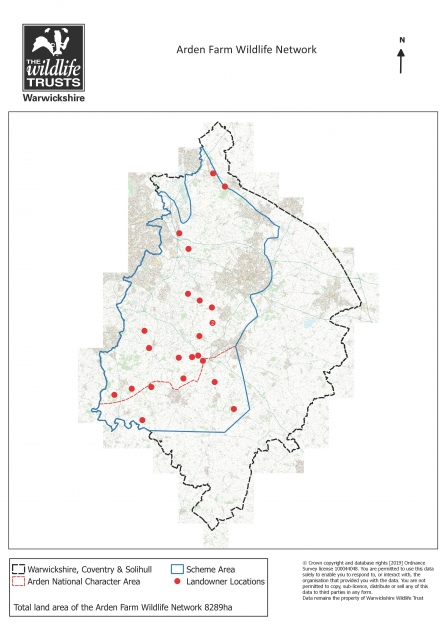 We recently submitted a funding application to Tesco Bags of Help to support the installation of barn owl boxes on farms in the project.  Barn owls have suffered huge declines over the last 50 years due to agricultural intensification and habitat loss and by working collaboratively the Arden Farm Wildlife Network can help restore their habitat and nesting sites at a landscape scale.  We have got through to the in store voting stage of our application.
The in-store voting will take place in May and June 2019 and the store locations are: 
Tesco Superstore Birmingham Rd, Stratford-upon-Avon CV37 0UA
Tesco Express 37-39 Banbury Rd, Stratford-upon-Avon CV37 7HW
Tesco Express 1-3, Hopkins Precinct, Kinwarton Rd, Alcester B49 6AA
Please encourage your friends and family to vote for us!  The more votes we get the more money we secure!
Over the next few years we aim to grow the membership of the group further and to identify the gaps in the landscape where habitat could be improved to allow wildlife to extend its range.  If you farm in the area and are interested in learning more about this project and how we can help you, then please feel free to get in touch enquires@wkwt.org.uk