Volunteers produce sustainable charcoal for sale
A team of volunteers are now working with us to produce sustainable charcoal to sell through our Visitor Centre at Brandon Marsh nature reserve.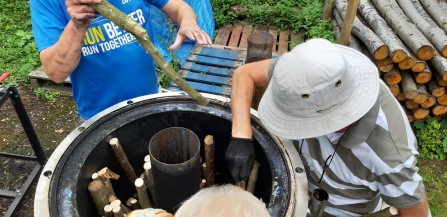 All the wood used to make the charcoal we sell is from our nature reserves generated through woodland management. The batch sold in our Brandon Marsh visitor centre shop in July was produced from ride management for wildlife at Snitterfield Bushes and Hampton Wood. 
We don't harvest wood specifically for the charcoal; it's a by-product of our management for wildlife and people. It's sustainable and doesn't contribute to deforestation. There are no additives and fewer impurities – The pyrolised wood (lumpwood charcoal) has a high carbon content (likely 90-95% carbon). All this means  there is more heat and less smoke produced when using it. 
The retort used to produce the charcoal is efficient in burning the gases cooked out of the wood to continue to fuel the burn. This also vastly reduces greenhouse gas emissions from producing the charcoal. 
Funds raised through the sale of the charcoal are re-invested in our reserves and the volunteers enjoy working as a team to produce it.